Lakeshore Living: Designing Lake Places and Communities in the Footprints of Environmental Writers (Paperback)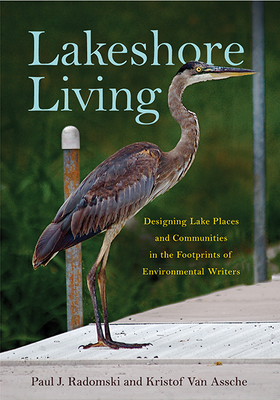 Description
---
In this remarkable and remarkably accessible synthesis of ecology, landscape design, and social sciences, the authors present an approach to lakeshore living that addresses the need to create rich, sustainable places and communities on the water, where both the loon and the family find a place, and where the cabin can be handed down with integrity to the grandchildren. Fragile shorelands require care, and that caring comes from knowledge, experience, and an environmental ethic. Radomski and Van Assche argue that an environmentally sensitive lakeshore place and community design is the way forward. While many factors affect the quality of lakes and lakeshore living, property owners and local communities do not have to wait until policies are perfect: the design approach advocated here can be applied in any place people living lakeside can get together and collaborate. The approach presented here is proactive and context sensitive: new designs have to fit the existing ecological, cultural, and policy landscapes. Development is always re-development in this sense. The authors introduce the reader step-by-step to this approach and carefully discuss leverage points that can be helpful in implementation and system change.
About the Author
---
Paul J. Radomski is a scientist with the Minnesota Department of Natural Resources. He currently serves as Minnesota's lead scientific expert on lakeshore habitat management issues.
 
Kristof Van Assche is Associate Professor in Community Planning & Development in the Extension Faculty at University of Alberta, and Research Fellow at Bonn University's Center for Development Research.
Praise For…
---
This book is a timely, original, and inspiring contribution to the existing literature about the management of lakes and wetlands and the environment in general...a must-read for everyone personally or professionally involved in lakeshore conservation and development.
—Raoul Beunen, Assistant Professor Spatial Planning, Wageningen University, The Netherlands

Lakeshore Living is a long-needed tool to protect our lakes' futures and should be read by all lake managers, leaders of lake associations, local government officials who face land use challenges and zoning decisions, all who care deeply about lake futures, and activists who want to play a role in lakes' protection and enhancement.
—Darby Nelson, author of For Love of Lakes

Authors Radomski and Van Assche offer an alternative vision for lakeshore development based on sound science and the wisdom of preeminent conservationists Aldo Leopold and Sigurd Olson, and sociologist William Hollingsworth "Holly" Whyte. It's a vision we must embrace now, before we lose the very attributes that first attracted humans to lakeshore living.
—Steve Hirsch, fisheries biologist and career natural resource professional


America has a great architectonic tradition in building on shores, beautifully exploring and revealing what landscapes provide us. Now is the time to ask ourselves how these landscapes can benefit from what we provide them. This book will help you to find answers.
—Harro De Jong, landscape architect