Deer-Resistant Design: Fence-free Gardens that Thrive Despite the Deer (Paperback)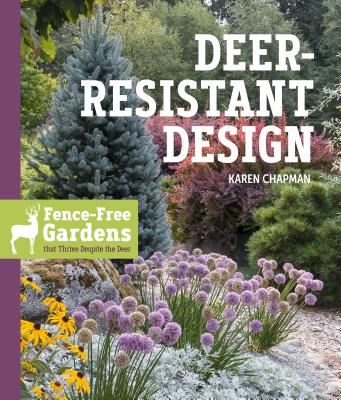 List Price: $24.99
Our Price: $24.95
(Save: $0.04 0%)
Description
---
"Fear deer no more! The best source I've seen on the topic!" —Tracy DiSabato-Aust, award-winning garden designer and best-selling author

Deer are one of the most common problems a gardener can face. These cute but pesky animals can quickly devour hundreds of dollars' worth of plants. And common solutions include the use of unattractive fencing and chemicals.

In Deer-Resistant Design, Karen Chapman offers another option—intentional design choices that result in beautiful gardens that coexist with wildlife. Deer-Resistant Design showcases real home gardens across North America—from a country garden in New Jersey to a hilltop hacienda in Texas—that have successfully managed the presence of deer. Each homeowner also shares their top ten deer-resistant plants, all welcome additions to a deer-challenged gardeners shopping list. A chapter on deer-resistant container gardens provides suggestions for making colorful, captivating, and imaginative containers. Lushly illustrated and filled with practical advice and inspiring design ideas, Deer-Resistant Design is packed with everything you need to confidently tackle this challenging problem.
About the Author
---
Karen Chapman is an award-winning landscape designer, the co-author of two books, Fine Foliage (St. Lynn's Press, 2013) and Gardening with Foliage First (Timber Press, 2017), and a popular speaker at botanical gardens, nurseries, and flower and garden shows across the United States. Her articles and designs have been featured in many online and print publications, including Garden Design, Fine Gardening, and Better Homes and Gardens. Visit her at lejardinetdesigns.com.
Praise For…
---
"I don't think there's a designer out there who wouldn't want a copy of this book." —Garden Design Online

"If you have the common problem of deer eating up your plants, this book is the answer you've been looking for!" —Garden Design Magazine

"This book is a gift to all gardeners who share their landscape with wild life." —The Renton Reporter

"Practical, inspiring, and beautiful. Chapman gives me new hope and tangible solutions for my own deer-challenged landscape." —Joe Lamp'l, creator and host of PBS's Growing a Greener World and founder of joegardener.com
 
"The resource that deer-plagued gardeners have been waiting for. Essential reading for anyone gardening in deer country." —Niki Jabbour, award-winning author and staff writer at savvygardening.com

"[Karen Chapman] encourages gardeners to be more creative, more clever, more understanding and more resilient in the face of deer pressure. And, best yet, she shows you how to do it." —My Northern Garden

"A book that recognizes that one size does not fit all, and inspires even the most beleaguered to try again.  A great read with many valuable plant recommendations." —Small Town Gardener

"Karen is a wealth of information on how to work with a deer's natural behavior pattern and outwit their appetite. " — The Joe Gardener Show with Joe L'ampl

"Not an encyclopedia of plants that the deer don't usually eat, although the end of each chapter lists each designer's or homeowner's top ten plants. The book is much more; it is a selection of well-designed gardens that have dealt with deer issues as well as other animal issues." —Columbus Dispatch

"Deer-Resistant Design proves that beautiful gardens and deer can coexist." —The Impatient Gardener

"Practical and inspiring." —Country Gardens

"The beauty of this book is that the gardens that grace its pages are not just presented as finished products. The initial challenges homeowners faced and solved to develop their gardens are described in detail. If you feel discouraged by deer this is an inspirational book."—ThePress Democrat

"With practical advice and inspiring design ideas, this book will help you confidently tackle this challenging problem." —Michigan Gardener

"Deer-Resistant Design offers a peaceable-kingdom approach to gardening with wildlife." —The Seattle Times

"I don't think there's a designer out there who wouldn't want a copy of this book." —Garden Design Online

"If you have the common problem of deer eating up your plants, this book is the answer you've been looking for!" —Garden Design Magazine

"This book is a gift to all gardeners who share their landscape with wild life." —The Renton Reporter

"Practical, inspiring, and beautiful. Chapman gives me new hope and tangible solutions for my own deer-challenged landscape." —Joe Lamp'l, creator and host of PBS's Growing a Greener World and founder of joegardener.com
 
"The resource that deer-plagued gardeners have been waiting for. Essential reading for anyone gardening in deer country." —Niki Jabbour, award-winning author and staff writer at savvygardening.com

"[Karen Chapman] encourages gardeners to be more creative, more clever, more understanding and more resilient in the face of deer pressure. And, best yet, she shows you how to do it." —My Northern Garden

"A book that recognizes that one size does not fit all, and inspires even the most beleaguered to try again.  A great read with many valuable plant recommendations." —Small Town Gardener

"Karen is a wealth of information on how to work with a deer's natural behavior pattern and outwit their appetite. " — The Joe Gardener Show with Joe L'ampl

"Not an encyclopedia of plants that the deer don't usually eat, although the end of each chapter lists each designer's or homeowner's top ten plants. The book is much more; it is a selection of well-designed gardens that have dealt with deer issues as well as other animal issues." —Columbus Dispatch

"Deer-Resistant Design proves that beautiful gardens and deer can coexist." —The Impatient Gardener

"Practical and inspiring." —Country Gardens

"The beauty of this book is that the gardens that grace its pages are not just presented as finished products. The initial challenges homeowners faced and solved to develop their gardens are described in detail. If you feel discouraged by deer this is an inspirational book."—ThePress Democrat

"With practical advice and inspiring design ideas, this book will help you confidently tackle this challenging problem." —Michigan Gardener

"Deer-Resistant Design offers a peaceable-kingdom approach to gardening with wildlife." —The Seattle Times