Practical Permaculture: for Home Landscapes, Your Community, and the Whole Earth (Paperback)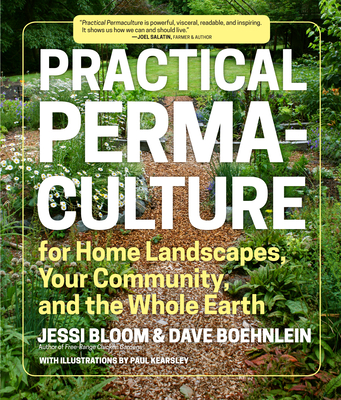 Description
---
"This permaculture primer is fresh and vibrant. Bring it on!" —Permaculture Magazine

Permaculture is more popular than ever, but it can still be a daunting concept. If you are new to permaculture and interested in learning more, Practical Permaculture offers authoritative, in-depth, and hands-on advice for a more holistic approach to sustainable living. Jessi Bloom and Dave Boehnlein, two dynamic leaders in the permaculture community, explain the basics of permaculture, share their design process, and explore various permaculture systems including soil, water, waste, energy, shelter, food and plants, and animals and wildlife. They also profile the fifty most useful plants for permaculture landscapes.
About the Author
---
Jessi Bloom is a best-selling author, award-winning ecological landscape designer, and speaker. She owns N.W. Bloom EcoLogical Services, based in the Pacific Northwest, which is known as an innovator and leader in the field of permaculture, sustainable landscape design, construction, and land management. Her work has been recognized by government agencies and industry organizations and makes headlines in national media. She lives near Seattle with her two sons on their permaculture homestead, which is full of functional gardens and rescue animals.
Dave Boehnlein serves as the education director at Bullock's Permaculture Homestead on Orcas Island, Washington. He is also the principal and a founder of Terra Phoenix Design, and a member of the Cascadia Permaculture Institute. His freelance teaching services are highly sought after by universities, nonprofits, and other organizations. Boehnlein received a diploma in permaculture education from the Permaculture Institute of North America, of which he is now a member and field advisor. Ultimately, he just wants to make the world a better place and eat really good fruit while doing it.
Paul Kearsley, a skilled designer with a passion for art and nature, collaborates with like-minded professionals to create inspiring models of sustainability. He has been an integral part of both institutional- and residential-scale permaculture design companies. As art director for Terra Phoenix Design, he has worked with world-class designers from California to Peru. On a local scale, Paul helped create Homestead Habitats LLC, a landscape contractor that specializes in designing and installing edible landscapes for urban and suburban homes. He currently teaches design courses at Western Washington University's College of Engineering. 
Praise For…
---
"With astonishing thoroughness and admirable dedication, Bloom and Boehnlein meticulously outline every aspect of permaculture, providing inspiring examples and impeccable advice for analysis, design, implementation, and plant selection." —Booklist
 
"Gardeners will relish the pragmatic text and illustrations in this handbook from two of permaculture's well-known leaders, Bloom (Free Range Chicken Gardens) and Boehnlein (education director, Bullock's Permaculture Homestead, WA)." —Library Journal

"Fills a niche for readers who want to integrate this down-to-earth but too-often-mystifying nature-inspired design system into their lives." —Publishers Weekly
 
"Practical Permaculture says it all right there in the title. The photos and diagrams are gorgeous and relevant. The text is easy to read, and the authors are seasoned in their craft. It is the clearest and most practical Permaculture book I have yet seen for helping the aspiring Permie." —PermacultureRising.com
 
"If anyone can make permaculture intelligible and appealing to home gardeners, it's award winning ecological landscape designer Jessi Bloom and Dave Boehnlein. . . . if you're interested in achieving closed-loop sustainability while keeping garden aesthetics in mind, Practical Permaculture can serve as a detailed roadmap." —Garden Design
 
"In Practical Permaculture Northwest authors Jessi Bloom and Dave Boehnlein take this 1970's term into today with real-life examples of people growing food, harvesting rain, and bringing their homes and gardens into symbiosis with the surrounding natural resources." —Sunset
 
"Clearly written and laid out. . . . This is a permaculture primer that is fresh and vibrant. Bring it on!" —Permaculture Magazine
 
"This comprehensive resource will help you make the shifts you're ready for this year, and for a decade." —The Denver Post

"Farmers who have heard the term, "permaculture" and are curious as to just what it means, will benefit from reading Practical Permaculture. Bloom and Boehnlein offer vivid ways to diversify the number of crops growing in a given area." —Acres USA