The Beginner's Guide to Growing Heirloom Vegetables: The 100 Easiest-to-Grow, Tastiest Vegetables for Your Garden (Paperback)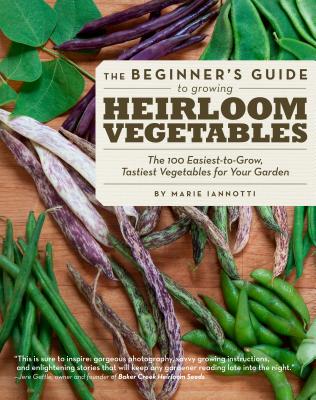 Description
---
Growing your own vegetables has never looked, or tasted, so good.

Are heirloom vegetables more difficult to grow than conventional hybrids? The Beginner's Guide to Growing Heirloom Vegetables debunks this myth by highlighting the 100 heirloom vegetables that are the easiest to grow and the tastiest to eat.
Marie Iannotti makes it simple for beginning gardeners to jump on the heirloom trend by presenting an edited list based on years of gardening trial and error. Her plant criteria is threefold: The 100 plants must be amazing to eat, bring something unique to the table, and—most importantly—they have to be unfussy and easy to grow. Her list includes garden favorites like the meaty and mellow 'Lacinato' Kale, the underused and earthy 'Turkish Orange' Eggplant, and the unexpected sweetness of 'Apollo' Arugula.
About the Author
---
Marie Iannotti was an avid gardener, Master Gardener Emeritus, as well as a former Cornell Cooperative Extension Horticulture Educator. She was the gardening expert at About.com for over a decade, and her writing was featured in outlets nationwide. 
Praise For…
---
"Lovers of edibles need to hang onto their socks! Marie Iannotti has given us a guide to growing 100 of the yummiest and most dazzling heirloom vegetables. I dare you to read this and not drool." —Ivette Soler, author of The Edible Front Yard

"This is sure to inspire: gorgeous photography, savvy growing instructions, and enlightening stories that will keep any gardener reading late into the night." —Jere Gettle, owner and founder of Baker Creek Heirloom Seeds

"Delicious, and deliciously dirt-filled." —The New York Times

"Not surprisingly, this is a great book for anybody who grows any sort of vegetable. Iannotti waxes poetic about these plants—and the gorgeous photos throughout the book back her up." —Chicago Tribune

"Iannotti's enthusiastic, handsome, and useful guide is, indeed, ideal for beginners, but it will also appeal to experienced gardeners and every cook interested in securing the most luscious and alluring vegetables." —Booklist

"A friendly introduction to the vast world of heirlooms which are good for the palate and great for the planet. ... Iannotti will hold the garden gloved hands of those who are new to the old reliables." —Publishers Weekly

"Iannotti goes into incredible detail so you can savor a delectable array of old-world vegetables when it comes time to harvest." —Natural Home and Garden

"If the 250 pages of scintillating photographs of heirlooms don't have your taste buds watering and your green thumb twitching, I'm not sure what will." —It's Easy Being Green

"Don't let the title of Marie Iannotti's new title from Timber Press fool you. Her guide for growing all that is heirloom is perfect for the beginner and the experienced gardener alike." —Curbly Bookworm

"Add to this the fantastic stories of the origins of some of these veggies and you've got my hands-down favourite gardening book of the season so far." —Flowery Prose