Living in Gratitude: Mastering the Art of Giving Thanks Every Day, A Month-by-Month Guide (Paperback)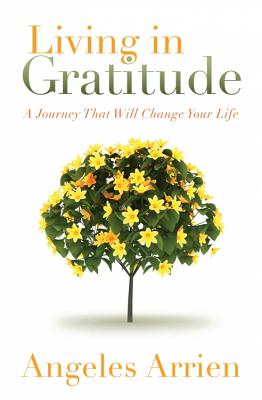 Description
---
What would happen if you made gratitude your focal point for one full year? With Living in Gratitude, Angeles Arrien invites you to find out. Integrating the latest teachings from social science with stories, prayers, and practices from cultures and traditions spanning the globe, she presents a 12-month plan for making gratitude your foundation for daily living.

Opening with themes such as "Beginning Anew" and "The Power of Equanimity" and progressing to "Letting Be and Letting Go," "The Mystic Heart," and more, readers will steep themselves in "the parent of all virtues," exploring:

How to overcome habitual tendencies toward envy, comparison, and narcissism
• Blessings, learnings, mercies, and protections—the four portals to the grateful heart, and how to cultivate these key entryways in our work, relationships, health, finances, and personal growth
• Journaling and reflection exercises, perennial and indigenous wisdoms, and universal practices for every season and situation
"The practice of gratitude bestows many benefits," writes Angeles Arrien. "Anger, arrogance, and jealousy melt in its embrace. Fear and defensiveness dissolve. Gratitude diminishes barriers to love and evokes happiness, keeping alive what has meaning for us." Living in Gratitude is a dependable resource for making this cherished virtue your guiding light along life's journey.
About the Author
---
Angeles Arrien, PhD (1940–2014) received her master's degree from the University of California at Berkeley, and her doctorate from the California Institute for Integral Studies. Dr. Arrien's teachings bridge the disciplines of anthropology, psychology, and comparative religion, while focusing on universal beliefs shared by humanity. She lectured and led workshops internationally on cultural anthropology and transpersonal psychology at colleges, corporate settings, and personal growth facilities. Her books include The Four-Fold Way, The Second Half of Life, and Living in Gratitude, and her audio-learning programs include Gratitude, Gathering Medicine, and more.

Marianne Williamson is a spiritual teacher, lecturer, and author of four New York Times #1 bestsellers, including A Return to Love, Meditations for a Miraculous Life, and many other books.
Praise For…
---
"Angeles Arrien is one of the most gifted and generous teachers of our time. She brings forward the perennial wisdom of traditional cultures and gives it accessible, pragmatic application that is essential to the health of our contemporary society. Angeles Arrien is a rare and true wise elder. She embodies what she teaches." —Frank Ostaseski, founder and director of the Metta Institutue

"In our busy lives, we all long for more deep breaths and loving connection. The beautiful gift of this wise book is that it shows us how to do this. It leads us by the hand and heart, month by month, to greater mercy, joy, well-being, and happiness. What a blessed way to live." —Jack Kornfield, author of A Path with Heart

"Rarely has the art of gratitude been presented in so rich and evocative a manner. Brimming with story, spirit, science, culture, and prayer, Angeles Arrien brings her luminous wisdom to create a masterpiece of soulful living." —Jean Houston, PhD, author of A Mythic Life

"The daily practice of gratitude will enhance the quality of every aspect of your life, including better health, more fulfilling relationships, and greater financial abundance. This book is the best manual I have ever come across to show you how. I highly recommend it!" —Jack Canfield, coauthor of the Chicken Soup for the Soul series and The Success Principles

"Having written about and practiced gratitude for over a decade, I felt there was nothing else to say about the topic. Then I read Living in Gratitude. Angeles takes the practice of thankfulness to a whole new level. Month by month, she guides us with questions and reflections to use gratefulness to grow spiritually in work, finances, health, and relationships. I give thank to her and to this book." —M.J. Ryan, author of Attitudes of Gratitude and A Grateful Heart

"Are you exhausted? Disheartened? Worried? Please do yourself a favor and read this book. Please allow this heart food to feed you at the deepest levels of your being. This is more than a book-it is a manual for living a life that you love and that matters, a life of savoring and serving, a life or inter-communication and grace. Please, let yourself be fed." —Jennifer Louden, author of The Woman's Comfort Book and The Life Organizer