The Complete Guide to Grass-Fed Cattle: How to Raise Your Cattle on Natural Grass for Fun and Profit (Back-To-Basics) (Paperback)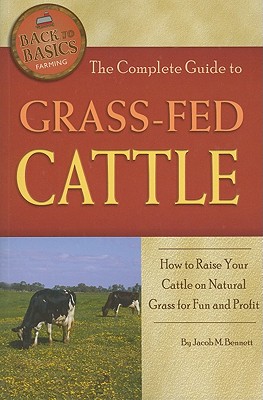 Description
---
Raising cattle in the 21st century can be a complicated process. Starting with the way you feed your cattle, you need to know exactly what is best both for your animals and the milk and meat they produce. With the public conscious slowly turning more toward organic food choices, there are numerous reasons why deciding to grass feed your animals can be not only an effective means of feeding your cattle, but also a way to make more money in the long run.
This book will guide you through the process of knowing exactly how to switch your methods to effectively raise your cattle on grass feed. You will learn the essential basics of raising your cattle with natural feed and care sources, including how the farming shift in this millennium has changed how things are done.
You will learn the various differences between raising cattle for milk and meat production and what you can expect from your cattle. You will learn how to improve your overall farm efficiency while ensuring natural feeding, and how to start analyzing your soil to better improve your livestock and their lifestyle. You will learn the basics of breeding, heredity, the environment you should raise your livestock, and what feed requirements your animals all require. Dozens of interviews have been conducted with top small farmers and cattle experts and their insight have been included here to help you learn how to properly house your cattle and rear their young. You will learn the basics of cattle health care and what you can expect from your livestock. Finally, you will learn some of the most common misconceptions about raising cattle and how you can overcome them. This book, for anyone seeking to raise cattle on grass, is ideal for getting a small farm started or renovating an existing farm.
Atlantic Publishing is a small, independent publishing company based in Ocala, Florida. Founded over twenty years ago in the company president's garage, Atlantic Publishing has grown to become a renowned resource for non-fiction books. Today, over 450 titles are in print covering subjects such as small business, healthy living, management, finance, careers, and real estate. Atlantic Publishing prides itself on producing award winning, high-quality manuals that give readers up-to-date, pertinent information, real-world examples, and case studies with expert advice. Every book has resources, contact information, and web sites of the products or companies discussed.