Blackie, The Horse Who Stood Still (Hardcover)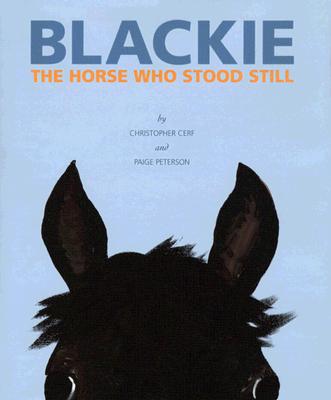 Description
---
In a pasture in Kansas one early spring morn
A horse quite unlike other horses was born.
His coat was coal black so they named the horse "Blackie,"
And before very long folks found out he was wacky!

Meet Blackie, the stubbornly motionless equine hero of Christopher Cerf and Paige Peterson's delightful and touching biography-in-verse, Blackie, The Horse Who Stood Still.

See, most colts are frisky but Blackie was not.
Blackie liked standing still! Yes, he liked it a lot!
"What's the hurry?" thought Blackie. "There's so much to see
Standing here in the shade of a juniper tree…..

This (mostly) true tale tells the heart-warming story of a horse who made standing stock-still a lifelong endeavor—while becoming a champion rodeo horse, a tourist favorite at Yosemite Park, a legendary environmental crusader, and the beloved mascot of one of America's most beautiful towns, Tiburon, California, on the shores of San Francisco Bay.

The word quickly spread 'bout the new horse in town
And from all 'round the county young kids headed down
To the pasture where Blackie could always be found
Standing still, like a rock, on the same patch of ground.

Magically illustrated by Peterson's lyrical paintings, Blackie is destined to become a children's classic in the tradition of Munro Leaf's Ferdinand the Bull and Dr. Seuss's The Lorax, The playful, clever, rhyming text will charm adults and children alike as it delivers an important message about appreciating and preserving the natural beauty around us.

"What a beautiful place!" Blackie thought when they got there,
"I simply can't wait just to stand in one spot there
And watch a gull soar, or a tree gently sway,
Or the fog rolling in from the hills 'cross the bay…
About the Author
---
Christopher Cerf is an author, composer-lyricist, record and television

producer, editor, and cofounder and president of the educational television production company, Sirius Thinking, Ltd. Since its first season in 1970,

Cerf has played a pivotal role in the creation and production of the "Sesame

Street" television program, most notably as a regular contributor of music

and lyrics. In the process, he has won two Grammy Awards and three Emmy Awards for songwriting and music production. Currently, Cerf serves as Co-Executive Producer of "Between the Lions," the multiple-Emmy-award-winning children's literacy series, created by his

company for PBS.

Paige Peterson is a noted New York artist who has also appeared on "Oprah"

and Lifetime Television's "Our Home," and who has designed and styled

segments for ABC's "Good Morning America." Her paintings are exhibited regularly in galleries across the country, and in 2003 she was selected for membership in the prestigious Guild Hall Academy of the Arts. While growing

up in Belvedere-Tiburon, California, Paige walked down the old railroad

tracks to Blackie's pasture and fed him apples, carrots, and sugar cubes

until Blackie's death in 1966. She lives and works in New York City with her

two children.
Praise For…
---
"What a sweet, soulful tome of tree flesh. Cerf's Up! Turn the page!"
--Wavy Gravy, Winnarainbow Kids Camp Director, Woodstock Master of Ceremonies, Seva Board Member, Ben & Jerry's ex ice cream flavor, Hippy Icon Flower Geezer and Temple of Accumulated Error


"Blackie is a beautiful and touching story, told in rhyme by Chris Cerf and Paige Peterson. Unforgettable as the tale is, the art work by Ms.Peterson is even more so. Long after you've read the book, you will remember the stunning pictures, illustrating the events of Blackie's life. This book will be admired and enjoyed by adults and cherished by children. An instant classic!"
--Joan Ganz Cooney, co-founder of Sesame Workshop and originator of Sesame Street

"Kids will love it!!!"
-Lucie Arnaz


"BLACKIE is an equine delight...the story and the illustrations are witty, deceptively simple & simply beautiful."
-Laurence Luckinbill

I wish our daughter still nestled in my lap so I could read her the inspiring story of Blackie, a horse who appeared lazy but in fact understood why nature is to be savored and change is sometimes to be resisted. I think I'll read it to her anyway!
- Ken Auletta