Feels Like Home: A Song for the Sonoran Borderlands (Hardcover)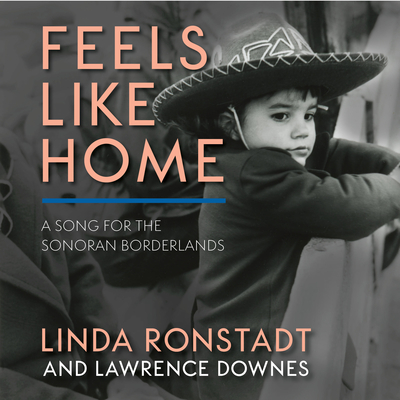 $35.00

Not On Our Shelves Now (Usually Ships in 1-5 Days)
Description
---
A San Francisco Chronicle Bestseller
2023 Southwest Book of the Year Selection
"The arid land that starts in Arizona and stretches into Mexico's west coast is Ronstadt's foothold in the world. It's a story she has told through music, and now wants to tell through food."--The New York Times
"The book is many things at once. It's a portrait of a place, the Sonoran Desert, and it's a genealogy of sorts, an archival romp through Ronstadt's family history."--Vogue
"An album of loves for the high desert of Sonora and Ronstadt's hometown of Tucson."--NPR
Rock and Roll Hall of Famer Linda Ronstadt takes readers on a journey to the place her soul calls home, the Sonoran Desert, in this candid new memoir.
In Feels Like Home, Grammy award-winning singer Linda Ronstadt effortlessly evokes the magical panorama of the high desert, a landscape etched by sunlight and carved by wind, offering a personal tour built around meals and memories of the place where she came of age. Growing up the granddaughter of Mexican immigrants and a descendant of Spanish settlers near northern Sonora, Ronstadt's intimate new memoir celebrates the marvelous flavors and indomitable people on both sides of what was once a porous border whose denizens were happy to exchange recipes and gather around campfires to sing the ballads that shaped Ronstadt's musical heritage. Following her bestselling musical memoir, Simple Dreams, this book seamlessly braids together Ronstadt's recollections of people and their passions in a region little understood in the rest of the United States. This road trip through the desert, written in collaboration with former New York Times writer Lawrence Downes and illustrated throughout with beautiful photographs by Bill Steen, features recipes for traditional Sonoran dishes and a bevy of revelations for Ronstadt's admirers. If this book were a radio signal, you might first pick it up on an Arizona highway, well south of Phoenix, coming into the glow of Ronstadt's hometown of Tucson. It would be playing something old and Mexican, from a time when the border was a place not of peril but of possibility.
About the Author
---
Linda Ronstadt, one of the most versatile singers of the past fifty years, is the author of Simple Dreams: A Musical Memoir (2013). Her four-decade recording career encompassed country, rock 'n' roll, the Great American Songbook, jazz, opera, Broadway standards, Mexican and Tropical music and Americana. Her worldwide album sales totaled more than 100 million records, with more than thirty gold and platinum records. She has won eleven Grammy Awards and is a recipient of the National Medal of Arts and a member of the Rock and Roll Hall of Fame. She serves on the advisory board of Los Cenzontles Cultural Arts Academy, which has taught Mexican folk music, dance and art to children in the San Francisco Bay Area for more than three decades. She lives in San Francisco.Lawrence Downes is a writer and editor in New York. For more than thirty years, he worked in newspapers, including the Chicago Sun-Times, Newsday, and the New York Times where he was an editor and member of the editorial board, specializing in issues about immigration, New York City and state politics and government, disability rights, veterans affairs, and the environment.Bill Steen is a professional photographer, specializing in the beauty and bounty of the Sonoran borderlands for more than three decades. Along with his wife, Athena Swentzell Steen, he is a founder of the Canelo Project, near Elgin, Arizona, a family-based community and an applied educational center that gives people hands-on experience with a lifestyle that aims to be sustainable. The Steens are the authors, with David Bainbridge, of The Straw Bale House, among other books.