EX-Posed: Animal Elegies (Hardcover)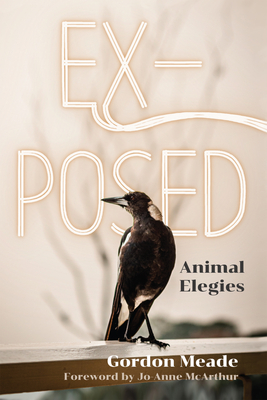 Description
---
Scottish poet Meade's second volume of poems reflecting on the lives of animals as photographed by award-winning photographer Jo-Anne McArthur.

Following on from Zoospeak, Scottish poet Gordon Meade's reflections on the lives of animals in zoos and aquaria as photographed by Toronto-based award-winning photojournalist Jo-Anne McArthur and gathered in her book Captive, EX-Posed turns its attention to McArthur's 2020 curated collection Hidden: Animals in the Anthropocene. Organized into seven sections that cover the experiences of nonhuman animals in factory farms, industrial fisheries, live markets, entertainment, religion, fashion, and amid the climate crisis, each of Meade's poems takes the form of an elegy "penned" by the nonhuman animals who, due to many different circumstances, find themselves on death row. As with the source material in Hidden, the tenor of EX-Posed is direct and unapologetic, with each poem attempting to capture the essence of the creatures and the horrific situations in which they find themselves. "It's my hope," says Meade, "that my words can give voice to the creatures in EX-Posed so that they might be both seen and, in some small way, also heard."

About the Author
---
Gordon Meade is a Scottish poet based in the East Neuk of Fife. He has been the Creative Writing Fellow at the Duncan of Jordanstone College of Art, and the Royal Literary Fund Writing Fellow at the University of Dundee, and has read from his work throughout the United Kingdom, Belgium, Germany, Ireland, and Luxembourg. He is the author of eleven other collections of poetry, including In Transit (Enthusiastic Press 2022), Zoospeak (Enthusiastic Press 2020), The Year of the Crab (Cultured Llama Publishing 2017), Les Animots: A Human Bestiary (Cultured Llama Publishing 2015), and Sounds of the Real World (Cultured Llama Publishing 2013).