The Animals Are Leaving Us (Hardcover)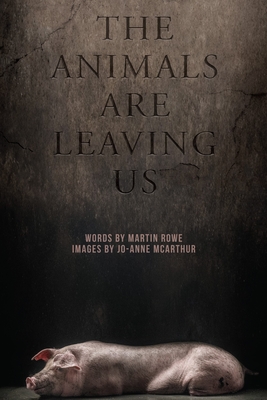 $20.00

Not On Our Shelves Now (Usually Ships in 1-5 Days)
Description
---
A poetic reflection and examination of the omnipresence and yet the vanishing of animals within and from an environment entirely defined by the whims and appetites of human beings.

For four years, from January 2017 to January 2021, writer and publisher Martin Rowe documented the state of the United States and the world—using the verse form of ottava rima. In June 2019, he dedicated thirty of those verses to two extraordinarily compelling and distressing photographs of animals in extremis taken by Canadian photojournalist Jo-Anne McArthur. Now expanded to include more verses and more of McArthur's stunning images, The Animals Are Leaving Us forms a testament to the particular moments in the lives and deaths of individual creatures, and a requiem for the many billions of animals who are subject to the cruel whims of our species, and who are vanishing from the wild places of the Earth. 
About the Author
---
Martin Rowe is the co-founder of Lantern Publishing & Media. He is the author of several books, including The Polar Bear in the Zoo: A Reflection, which also explores the work of Jo-Anne McArthur, and co-author of Right Off the Bat: Baseball, Cricket, Literature, & Life.

Jo-Anne McArthur is an award-winning photojournalist, sought-after speaker, and the founder of We Animals Media. She has been documenting the plight of animals on all seven continents for almost two decades. She is the author of We Animals (2014) and Captive (2017), and, most recently, HIDDEN: Animals in the Anthropocene.