The Down and Dirty Guide to Camping with Kids: How to Plan Memorable Family Adventures and Connect Kids to Nature (Paperback)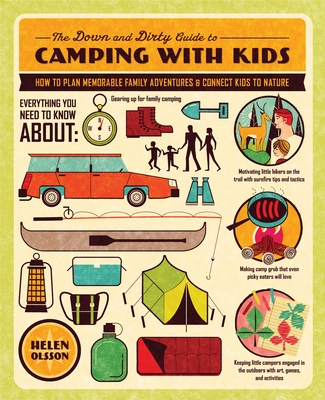 Description
---
Plan your family camping adventure!

Whether you're a first-time camper or a veteran backpacker befuddled by the challenges of carting a brood—and all the requisite gear—into the great outdoors, here you'll find all the tips and tools you need to plan the perfect nature adventure with your family. Humorous and irreverent, yet always authoritative, this guide to camping with kids, from babies through pre-teens, is filled with checklists, smart tips, recipes, games, activities, and art projects.

Helen Olsson, a seasoned camper and mother of three, shares lessons learned over the years of nature outings with her own family. Learn the basics of family camping, from choosing a destination and packing gear to setting up a campsite and keeping little ones safe. Create the perfect camp menu with simple and tasty recipe ideas. Discover foolproof tips and tactics for keeping kids happy and entertained while hiking. Explore nature through clever and creative camp arts and craft projects. This guide is your game plan to unplugging from the digital world and connecting your kids to nature. Whether it's roasting marshmallows around a crackling campfire or stretching out on a camp mat to gaze at the stars, the memories you'll be making will last a lifetime.
About the Author
---
Helen Olsson is a freelance travel and skiing writer and a regular contributor to the New York Times Travel and Escapes sections, where she writes about family outdoor and adventure travel. Among the camping trips she's chronicled are llama-trekking in Colorado's backcountry and a canoe-and-kayak trip in the Niobrara River Valley of Nebraska—both taken with three children under nine. Visit her at www.maddogmom.com.
Praise For…
---
"For the uninitiated—or else panicked—Boulder-based freelance writer and New York Times contributor Olsson offers this thorough and accessible guide that covers all the bases. From slathering cotton balls in petroleum jelly as firestarters (love it!) to freezing stews ahead of time and letting them double as ice packs, Olsson has you covered. This would make a lovely addition to a display on summer adventures and is enthusiastically recommended for all public libraries. Bring on the dirt."—Library Journal, starred review

"Olsson provides a comprehensive guide to car camping with children, from infants to preteens. Through her extensive advice, greenhorn parents will quickly evolve into knowledgeable campers, capable of offering their children rewarding experiences in nature that will last a lifetime."—ForeWord Reviews

"A treasure trove of information and ideas that would be a fine addition to any camper's bookshelf. The author's conversational, first-person approach feels like a chat with a friendly neighbor. Her well-crafted prose is sprinkled with a humor that parents will particularly appreciate."—The Deseret News

"This book is an incredible resource for families just beginning their outdoor adventuring."—Eco Child's Play, www.ecochildsplay.com 


"I love the author because she is a mother herself, as well as a very organized one!  Perhaps the most appealing parts of the book are the numerous checklists. The illustrations are clean and simple and they fit with the whole retro theme of the book. Perfect for your kids to browse and learn from. Olssen makes it easy for busy moms and dads to plan, pack, and execute an amazing camping weekend."—Natural Family Today, www.naturalfamilytoday.com 

"The book is packed with enough detail to allow someone who has never camped in their life to venture confidently into the woods, but even veteran backcountry campers will find plenty of useful tips on everything from first aid to making camp."—The Daily Camera (Boulder, CO)

"If you're like me, no matter how much you plan, the Wing It factor always comes into play when you go camping with children. But now there's a book that can help you tame the chaos of mushing your whole family and a ridiculous mountain of gear into a single tent. You won't find a more comprehensive how-to on the subject than The Down and Dirty Guide to Camping With Kids. Olsson leads you through practically every decision you need to make—from where and when to go, to what to bring (less than you think), to what to cook (single best compendium of s'mores recipes ever), and how to keep the kids out of your hair (berry paints! photo safaris!). Because it's so sensible, the guide is great for everyone, from seasoned backcountry veterans who want to learn a few new shortcuts to families that have never once set up a tent or banged a stake into the ground. Olsson's tone is chipper yet informative, and never condescending. The book is crammed with handy packing checklists, simple but clever camp recipes, and lots of genuinely helpful advice, like always bring your bikes and orient your tent door to the best view."—Katie Arnold, Outsideonline.com.