Cassandra at the Wedding (Paperback)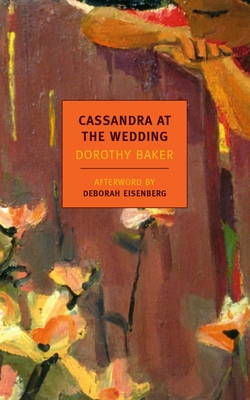 Description
---
Cassandra Edwards is a graduate student at Berkeley: gay, brilliant, nerve-racked, miserable. At the beginning of this novel, she drives back to her family ranch in the foothills of the Sierras to attend the wedding of her identical twin, Judith, to a nice young doctor from Connecticut. Cassandra, however, is hell-bent on sabotaging the wedding.
 
Dorothy Baker's entrancing tragicomic novella follows an unpredictable course of events in which her heroine appears variously as conniving, self-aware, pitiful, frenzied, absurd, and heartbroken—at once utterly impossible and tremendously sympathetic. As she struggles to come to terms with the only life she has, Cassandra reckons with her complicated feelings about the sister who she feels owes it to her to be her alter ego; with her father, a brandy-soaked retired professor of philosophy; and with the ghost of her dead mother.
 
First published in 1962, Cassandra at the Wedding is a book of enduring freshness, insight, and verve. Like the fiction of Jeffrey Eugenides and Jhumpa Lahiri, it is the work of a master stylist with a profound understanding of the complexities of the heart and mind.
About the Author
---
Dorothy Dodds Baker (1907–1968) was born in Missoula, Montana, in 1907 and raised in California. After graduating from UCLA, she traveled in France, where she began a novel and, in 1930, married Howard Baker, a critic, professor, and editor. The couple moved back to California, and Baker completed an MA in French at UCLA, later teaching Latin at a private school. After having a few short stories published, Baker turned to writing full-time, despite, she would later claim, being "seriously hampered by an abject admiration for Ernest Hemingway." In 1938, she published Young Man with a Horn (also available from NYRB Classics), a novel about a white jazz musician, which earned critical praise and eventually was made into a movie starring Kirk Douglas. She received a Guggenheim Fellowship in 1942 and, the next year, published Trio, a novel whose frank portrayal of a lesbian relationship proved too scandalous for the times. Baker and her husband adapted Trio as a play in 1944, but it was quickly shut down because of protests. Baker died in 1968 of cancer.
 
Deborah Eisenberg is the author of four collections of short stories and a play. She is the winner of the 2000 Rea Award for the Short Story, a Whiting Writers' Award, a Lannan Foundation Fellowship, and five O. Henry Awards. She lives in New York City.
Praise For…
---
"This is an ideal beach read—all the better if you live someplace where the beaches are cold." —Anna Wiener, The New Yorker

"Knowing, wise and a cracking read." —Irish Independent

"An important achievement…intoxicating fun." — Lillian Smith
 
"[Baker's] ear for dialogue is acute, her prose immaculate…this is a novel of exceptional quality." — Times Literary Supplement
 
"I—whose usual bed time is ten o'clock—stayed up all night reading that exquisite Cassandra at the Wedding—dazzled by the pyrotechnics of such an artist. I can only think back to Young Man with a Horn, and be overwhelmed by Dorothy Baker's continuing brilliance." — Carson McCullers
 
"Dorothy Baker's Cassandra at the Wedding (New York Review Books, 2004) is another novel in which it's hard not to be caught up from the very first page by the first—person voice of the speaker. Originally published in 1962, this is the compulsively readable story of Cassandra's unwilling trip home to attend (or prevent) her twin sister Judith's wedding. She's one of those neurotic, intellegent women, trying to understand the direction her life has taken. Long out of print, this is just one of the wonderful titles (both fiction and non—fiction) brought back to life by a publishing company whose mission, according to editor Edwin Frank, is to rescue some of the many truly remarkable works of literature that have had the misfortune of falling out of print." -- Nancy Pearl, The Beat, KUOW 94.9 FM Seattle NPR
 
"Belongs with Salinger's Catcher in the Rye and McCullers's Member of the Wedding as a modern American classic." – Georgia Hammick
 
"A brilliantly told story…remarkably subtle…inexporably lucid." – The New York Times