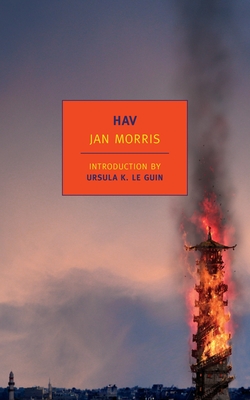 Description
---
A New York Review Books Original

Hav is like no place on earth. Rumored to be the site of Troy, captured during the crusades and recaptured by Saladin, visited by Tolstoy, Hitler, Grace Kelly, and Princess Diana, this Mediterranean city-state is home to several architectural marvels and an annual rooftop race that is a feat of athleticism and insanity. As Jan Morris guides us through the corridors and quarters of Hav, we hear the mingling of Italian, Russian, and Arabic in its markets, delight in its famous snow raspberries, and meet the denizens of its casinos and cafés.

When Morris published Last Letters from Hav in 1985, it was short-listed for the Booker Prize. Here it is joined by Hav of the Myrmidons, a sequel that brings the story up-to-date. Twenty-first-century Hav is nearly unrecognizable. Sanitized and monetized, it is ruled by a group of fanatics who have rewritten its history to reflect their own blinkered view of the past.

Morris's only novel is dazzlingly sui-generis, part erudite travel memoir, part speculative fiction, part cautionary political tale. It transports the reader to an extraordinary place that never was, but could well be.
About the Author
---
Jan Morris was born in 1926, is Anglo-Welsh, and lives in Wales. She has written some forty books, including the Pax Britannica trilogy about the British Empire; studies of Wales, Spain, Venice, Oxford, Manhattan, Sydney, Hong Kong, and Trieste; six volumes of collected travel essays; two memoirs; two capricious biographies; and a couple of novels—but she defines her entire oeuvre as "disguised autobiography." she is an honorary D.Litt. of the University of Wales and a Commander of the British Empire. Her memoir Conundrum is available as a New York Review Book Classic.

Ursula K. Le Guin has published twenty-one novels as well as volumes of short stories, poems, essays, and works for children. Among her novels are The Left Hand of Darkness and The Dispossessed, both winners of the nebula and Hugo awards.
Praise For…
---
"Roaming a city of dreams." —Michael Dirda, Washington Post, List of 66 Favorite Books

"After reading Last Letters from Hav, what travel writer would ever want to report from an actual place? . . . a vigorous literary hybrid; elegant fiction in its own right but also a respectfully witty homage to indomitable English travel writers like Lawrence, Burton and Blanch."
—Elaine Kendall, Los Angeles Times

"A touching love-letter, not to an Invisible City but to life itself. Morris has penned a fable about an imaginary abroad to teach us about the here and now."
—Peter J. Conradi, The Independent

"Jan Morris has marshaled reportorial insight and literary
flair to describe nearly every interesting place on the planet. Unique among them is Hav, which she revisits in her latest, perhaps most insightful book yet."
—Donald Morrison, Time

"Taken for the real thing on its first publication in 1985, this faux-travel memoir prompted fruitless calls to confused travel agents. It's no wonder: Morris's imagination is a marvel, her spectral country fully realized and fascinating. Hav, an eastern Mediterranean peninsula, rises believably in the mind, with its city skyline of onion domes, minarets, and one incongruous pagoda along with its glorious and complex history. Hav's past is ingeniously, believably intertwined with real events; its present is realistically faded and isolated, adding to the eerie feeling one gets of spying on a lost world." — Publishers Weekly

"The city's full story — insofar as the full story will ever be known — can be found in this handsome paperback. Still, most readers are likely to prefer "Last Letters From Hav," that beautifully written, nostalgic excursion to the final station stop on the Mediterranean Express, the Hav where Eric Ambler might have set one of his atmospheric spy thrillers of the 1930s or where a doddering Ruritanian prince might try to cadge a glass of champagne. That romantic down-at-heel city no longer exists, if it ever really did. Alas, the Holy Myrmidonic Republic — under various names — is all too real." -- Michael Dirda, The Washington Post