The Herbal Kitchen: Bring Lasting Health to You and Your Family with 50 Easy-to-Find Common Herbs and Over 250 Recipes (Paperback)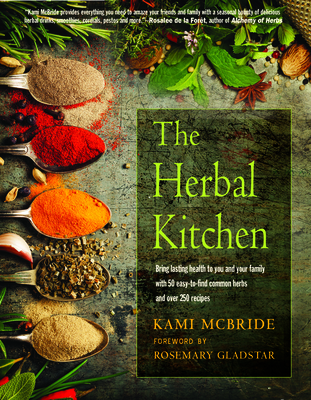 $22.95

Not On Our Shelves Now (Usually Ships in 1-5 Days)
Description
---
"Kami McBride provides everything you need to amaze your friends and family with a seasonal bounty of delicious herbal drinks, smoothies, cordials, pestos and more."— Rosalee de la Forêt, author of Alchemy of Herbs

Herbs are a gift from nature. They not only help to create aromatic and delicious food, they also support overall health and wellness on a daily basis. Using dried and fresh herbs in your cooking boosts your intake of vitamins and minerals, improves digestion, strengthens immunity, and increases energy. Using plants as medicine is an ancient and powerful tradition that connects you to the earth, helps treat common ailments, promote restful sleep, relaxation, and more.

The Herbal Kitchen will help you recognize the extraordinary pharmacy that probably already exists in your own kitchen. With 50 easy-to-find herbs and spices, information and tips for preparing, storing, and using them, and over 250 simple, flavorful recipes, it will empower you to care for your health.

Whether you are already familiar with herbs or are just starting out on the herbal path, Kami McBride offers recipes for everyone.  Mix up refreshing drinks, infuse oil, vinegar and honey, learn how to make tinctures and cordials, salts, sprinkles, and more.
 
About the Author
---
Kami McBride has helped thousands of people learn to use herbal medicine in their daily lives in ways that are healthy, safe, and fun. She teaches experiential herbal programs in reviving the art of using herbal medicine in the home. Her work is centered in sustainable wellness practices, creating self-reliance and revitalizing our relationship with the plant world. Kami infuses her extensive knowledge of healing plants into her herbal cooking for preventive health and empowers people to use herbs to prevent common everyday ailments. Kami founded the Living Awareness Institute and serves as an instructor of herbal medicine at Solano Community College, Napa Valley Junior College, and College of Marin.