How to Eat, Move, and Be Healthy! (2nd Edition): Your Personalized 4-Step Guide to Looking and Feeling Great from the Inside Out (Paperback)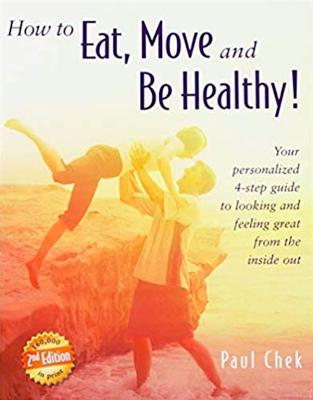 Description
---
2nd edition published 2018
The 2nd edition includes a new introduction by the author, covering his 4-Doctor approach to help you successfully implement the strategies in the book.
You are unique The way we respond to food, exercise and stress varies person-to-person just as much as our fingerprints. This book will identify YOUR individual needs and teach you how to address issues that may be preventing you from looking and feeling your best. Follow this proven four-step program that has helped thousands of people look and feel their best. Step 1. Fill in the Questionnaires.
Step 2. Develop a Unique Eating Plan for YOU.
Step 3. Build a Personalized Exercise Program that Fits YOUR Needs.
Step 4. Fine-tune a Healthier Lifestyle that Fits YOUR Routine. Whether you want to lose weight, change your body shape, overcome a health challenge, or optimize an already healthy lifestyle, this book will teach you how to achieve all your goals
About the Author
---
As a Holistic Health Practitioner, wellness coach, corrective exercise specialist and educator for over 30 years, Paul Chek has developed a unique approach to holistic health and education that ties in concepts from each of these fields. By treating the body as a whole system and finding the main cause of a problem, Paul has been successful where traditional methods have consistently failed. He founded the CHEK Institute in California as a focal point for the education of elite health and exercise professionals. The CHEK Institute runs four advanced certification programs and provides numerous training videos and courses to students worldwide. An internationally acclaimed presenter and consultant, Paul's clients have included: the Los Angeles Chiropractic College, Johnson & Johnson, the conditioning staff of the Chicago Bulls, Australia's Canberra Raiders, the US Air Force Academy, professional and amateur athletes from a variety of sports, as well as numerous rehabilitation clients. Paul is a contributing writer to many industry publications and websites and has authored and co-authored several books, including The Golf Biomechanic's Manual, The Tennis Biomechanic's Manual, The Last 4 Doctors You'll Ever Need and Movement That Matters.