Brigid: History, Mystery, and Magick of the Celtic Goddess (Paperback)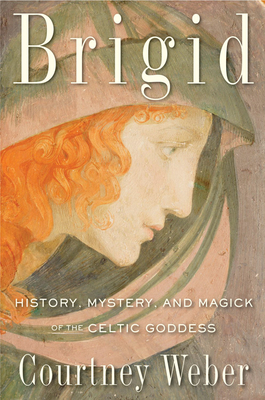 $18.95

Not On Our Shelves Now (Usually Ships in 1-5 Days)
Description
---
"A gorgeous history a journey with the goddess herself: a journey through ritual, meditation, and magic. Weber does a masterful job. If you are a fan of Brigid this is the book you¹ve been waiting for." —Jason Mankey, managing editor, Patheos Pagan

"Lady of the Well, the Forge, and the Green Earth, I seek you. Brigid, I Seek You"

Brigid—mother, daughter, healer, bard, warrior, fire goddess, goddess of the oak, animals, and magic. Brigid of the spring, her festival Imbolc, oversees fertility of all kinds. Brigid is many things to many people. In this enticing book, Courtney Weber offers up a wide-ranging exposition and celebration of all things Brigid, who is arguably the most popular figure in Celtic mythology and religion. Meet Brigid in her various incarnations—Celtic Pagan Goddess, Christian Saint, and Voudon Loa.

Each chapter ends with guided meditations and exercises that help readers tap into Brigid's healing powers. Inside you'll find Brigid-focused spells, blessings, recipes, and rituals for love, harmony, protection, and much more.
About the Author
---
Courtney Weber is a Priestess, writer, Tarot advisor, activist and practicing Witch in New York City. Her writing has appeared in several publications and she blogs at www.thecocowitch.com and on Witchesandpagans.com ("Behind the Broom: What the Books Don't Tell You"). She is the designer and producer of Tarot of the Boroughs, a photographic Tarot deck set in New York City. Courtney lecturers regularly around the United States and travels to Ireland frequently, leading tours of the sacred sites.
Praise For…
---
"A gorgeous history [and] a journey with the goddess herself: a journey through ritual, meditation and magic. Weber does a masterful job. If you are a fan of Brigid this is the book you¹ve been waiting for." --Jason Mankey, managing editor, Patheos Pagan
— Reviews

"Weber's debut is less a discussion of Brigid, the Celtic goddess and namesake of the Irish saint, than a user's guide to understanding a particular take on the goddess along with insights on how to interact with the aforementioned goddess in the context of modern neopagan practice. The author is a self-proclaimed priestess and witch as well as the creator of a witty photographic take on the tarot deck using New York City faces and locales, Tarot of the Boroughs. As with many books on spiritual practice in any tradition, one must believe before beginning, but once the hurdle is reached, this book is complete with illustrations, rituals, exercises, and spells. Verdict: This is not a scholar's book or a beginner's introduction but instead a hands-on manual for the neopagan believer with a powerful interest in Celtic spirituality." --Library Journal, Graham Christian, formerly with Andover-Harvard Theological Lib., Cambridge, MA
— Reviews