The Herbal Kitchen: Bring Lasting Health to You and Your Family with 50 Easy-To-Find Common Herbs and Over 250 Recipes (Paperback)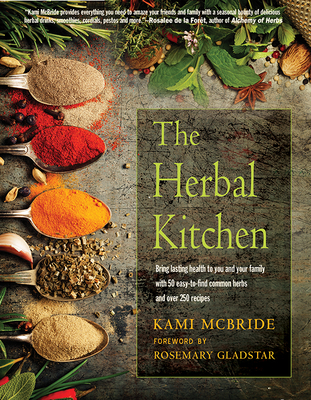 List Price: $21.95
Our Price: $18.95
(Save: $3.00 14%)
Description
---
"Kami McBride provides everything you need to amaze your friends and family with a seasonal bounty of delicious herbal drinks, smoothies, cordials, pestos and more." -- Rosalee de la Forêt, author of Alchemy of Herbs
Herbs are a gift from nature. They not only help to create aromatic and delicious food, they also support overall health and wellness on a daily basis. Using dried and fresh herbs in your cooking boosts your intake of vitamins and minerals, improves digestion, strengthens immunity, and increases energy. Using plants as medicine is an ancient and powerful tradition that connects you to the earth, helps treat common ailments, promote restful sleep, relaxation, and more.
The Herbal Kitchen will help you recognize the extraordinary pharmacy that probably already exists in your own kitchen. With 50 easy-to-find herbs and spices, information and tips for preparing, storing, and using them, and over 250 simple, flavorful recipes, it will empower you to care for your health.
Whether you are already familiar with herbs or are just starting out on the herbal path, Kami McBride offers recipes for everyone. Mix up refreshing drinks, infuse oil, vinegar and honey, learn how to make tinctures and cordials, salts, sprinkles, and more.
About the Author
---
Kami McBride has helped thousands of people learn to use herbal remedies as the centerpiece of their pro-active health care plan. She has taught herbal medicine at the University of California School of Nursing and the California Institute of Integral Studies. Kami teaches online courses that help people bring the healing power of herbs into their daily lives to create self-reliance and revitalize our relationship with the plant world. Visit her at www.kamimcbride.com.  Rosemary Gladstar is the author of Medicinal Herbs: A Beginner's Guide.
Praise For…
---
"Thank you Kami, for bringing back the value of herbs and spices in The Herbal Kitchen. An inspiration for both new and advanced herbalists alike, this book combines herbalism with nutrition in a user-friendly, inexpensive way. What better way to take a culinary trip around the world, play with flavor, and bring us back home to growing our own fresh herbs?" -DeAnna Batdorff, Founder of the dhyana Center
— DeAnna Batdorff

"The Herbal Kitchen is written by a practicing herbalist, seasoned gardener, and medicine maker (no armchair herbalist here!) Kami has imbued this book with a sense of joy, practical knowledge and deep wisdom and with her guidance, you will deepen your knowledge and understanding of the many healing herbs and foods found in your kitchen." -Candis Cantin, Author of The Herbal Tarot and Pocket Guide to Ayurvedic Healing
— Candis Cantin

"Plants have long been humanity's powerful and generous allies, providing us with daily nourishment, wellness, support, and joy. The more we commune with these botanical friends, the more they enrich our lives, and The Herbal Kitchen inspires us to invite them to each and every meal. If you long for food filled with nature's color, vitality, and love, this is the guide you seek." -Julie Bailey, herbalist, gardener, and co-owner of Mountain Rose Herbs
— Julie Bailey

"In The Herbal Kitchen, Kami McBride extends an enticing invitation to dive into the art, rich tradition and flavor of kitchen medicine. An herbal, a recipe book and home remedy companion all at once, it will inspire you to learn, grow, cook and share. A plethora of incredible recipes, in-depth plant profiles and Kami's years of experience and passion will give you all the tools you need to stock your herbal pantry for lasting health." -Brittany Wood Nickerson, Herbalist, owner of Thyme Herbal, and author of Recipes from the Herbalist's Kitchen and The Herbal Homestead Journal
— Brittany Wood Nickerson

"A joyful celebration of practical, sensual herbal recipes! Kami's beautiful new book brims with delicious recipes that help budding herbalists and gardeners discover the bounty in their backyard. The recipes are simple and practical yet creative - the unique combinations of flavors excite the senses and teach you how to better enjoy herbs and spices. Together, they indulge you in the herbal lifestyle - not just for medicine, but plants and recipes that perk up your senses and make life more pleasurable." --Maria Noël Groves, herbalist and author of Body into Balance and Grow Your Own Herbal Remedies
— Maria Noël Groves

"Kami McBride provides everything you need to amaze your friends and family with a seasonal bounty of delicious herbal drinks, smoothies, cordials, pestos and more." -Rosalee de la Forêt, author of Alchemy of Herbs
— Rosalee de la Forêt

"Full of tasty remedies and everyday delights; Kami provides multiple variations and ideas for each type of recipe to get your creative juices flowing! Easy, sustainable, and deliciously useful." -Holly Bellebuono, MPA, CH, herbalist and author of The Healing Kitchen and An Herbalist's Guide to Formulary
— Holly Bellebuono, MPA, CH

"Kami McBride has created an essential, comprehensive, and beautifully written book. It shows us the way to weave the practical magic of herbal remedies - cooking, gathering, making medicine - into the strands of our lives and the lives of our loved ones. Illuminated with personal anecdotes, it is easily accessible to beginners and inspiring to seasoned herbalists. The Herbal Kitchen is a beautiful recipe for self - empowerment and reconnection to the natural world." -Donna Chesner, Southwest School of Botanical Studies
— Donna Chesner

"The Herbal Kitchen is a beautifully written guide to expanding your herbal repertoire. This is a book that can bring more fun, flavor, and health into your life." --Brigitte Mars, author of of Rawsome! and The Desktop Guide to Herbal Medicine
— Brigitte Mars

"The Herbal Kitchen reminds me of why I dove head first into herbal medicine. Kami inspires you to take your own plunge into the joys of plant medicine and to give up shelves in your kitchen for jars of roots, leaves, and flowers. She takes you by the hand down the herbal path and shows you how easy it can be. There is always room for another herb book on the shelf and The Herbal Kitchen is a must." —Dr. JJ Pursell, herbalist and author of The Herbal Apothecary
— Dr. JJ Pursell