Stone-Garland (Paperback)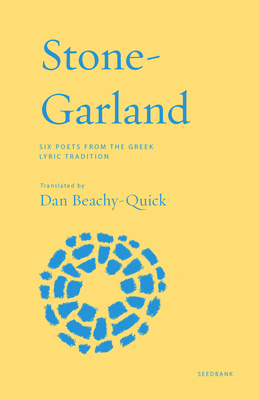 Description
---
A New York Times Book Review "New & Noteworthy" Poetry Collection
A Book Riot "Best Fall 2020 Book in Translation"
Stone-Garland, this new entry in the Seedbank Series, presents translations of six poets of the Greek lyric tradition. Anecdotes of Simonides, Anacreon, Archilochus, Theognis, Alcman, and Callimachus may be easy to come by but their poems are restored less often. That's a loss that this anthology remedies. Reading ancient poetry is a simple pleasure, like strolling through a cemetery overgrown with wildflowers. Imagine the graveyard filled with broken stones, each with a fragment that could compose a poem. Stone by stone you build a garland that represents a possible vision of a world long gone.
Dan Beachy-Quick is our guide on this walk through a ruin of lyric poetry. To these reclaimed fragments he brings a love of discovery through lyricism. Beachy-Quick's translations take joy in the intricacies of ancient Greek and logophiles will find treats in these pages. Returning to the foundations of a poetic tradition that has evolved throughout the ages is a chance to rekindle past identities and relationships to the world.
About the Author
---
Dan Beachy-Quick is a poet, essayist, and translator. His books include Variations on Dawn and Dusk, which was longlisted for the National Book Awards. His work has been supported by the Lannan, Monfort, and Guggenheim Foundations. He is a University Distinguished Teaching Scholar at Colorado State University, where he teaches in the MFA program in creative writing.