Crone's Book of Charms & Spells (Paperback)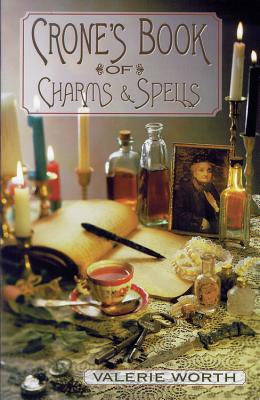 $13.99

Not On Our Shelves Now (Usually Ships in 1-5 Days)
Description
---
This charming little magic book holds the carefully guarded secrets that a wise woman of bygone days could have penned in her grimoire by candlelight. Herbal elixirs, powerful charms, amulets, balms for all folk who come to her seeking their heart's desire: enhanced health and healing, protection, love, marriage, fertility, wealth, youthfulness, beauty.
Quaint and mystic, this treasury of lore also describes twelve rituals to guide you through the mysteries of a full year of seasons. Begin with an ice-sparkling ceremony for the first day of the year and celebrate the winter solstice in a glorious burst of red and gold fire. Each ceremony grows out of the unchanging truths of the cycle of seasons and of the universe itself.
About the Author
---
Valerie Worth was a prolific writer whose work included numerous books of children's poetry and fiction for both young people and adults. In 1991, the National Council of Teachers of English honored her with their Poetry Award for Excellence in Poetry for Children. Her Poems are vivid observations of the quiet rumblings of everyday objects. In all her writing, the careful attention to rhythm and sound and her striking images and metaphors make for engaging reading. Valerie Worth was born in Philadelphia, and as a child she lived in Pennsylvania, Florida and India. She attended Swarthmore College and graduated in 1955. Afterwards, she settled in Clinton, New York, and continued he Writing. She had many other interests, including astronomy, gardening and meditation. Valerie Worth died in 1994. She is survived by her husband, George Bahlke, and three children.