Ask Me: 100 Essential Poems of William Stafford (Paperback)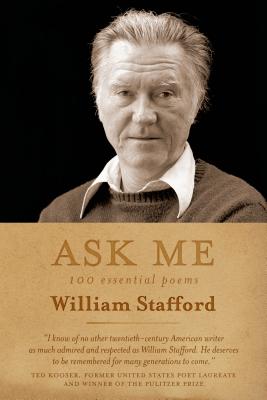 Description
---
"In our time there has been no poet who revived human hearts and spirits more convincingly than William Stafford." —Naomi Shihab Nye


Some time when the river is ice ask me
mistakes I have made. Ask me whether
what I have done is my life.
—from "Ask Me"

In celebration of the poet's centennial, Ask Me collects one hundred of William Stafford's essential poems. As a conscientious objector during World War II, while assigned to Civilian Public Service camps Stafford began his daily writing practice, a lifelong early-morning ritual of witness. His poetry reveals the consequences of violence, the daily necessity of moral decisions, and the bounty of art. Selected and with a note by Kim Stafford, Ask Me presents the best from a profound and original American voice.
About the Author
---
Kim Stafford is Associate Professor, Lewis and Clark Graduate School. He writes, teaches, and travels to raise the human spirit through poetry. He founded the Northwest Writing Institute in 1986, and has published a dozen books of poetry and prose, including The Muses Among Us: Eloquent Listening and Other Pleasures of the Writer's Craft and 100 Tricks Every Boy Can Do: How My Brother Disappeared. His most recent book is the poetry collection Singer Come from Afar (Red Hen Press). He has taught writing in dozens of schools and community centers, and in Scotland, Italy, and Bhutan. In 2018 he was named Oregon's 9th Poet Laureate.
Praise For…
---
"I was so surprised at the depth of William Stafford's poetry, and it fell into my heart as if it had always been there." —Alice Walker

"Ask Me: 100 Essential Poems is a wonderful one-volume introduction to Stafford's poetry." —Oregonian

"[Ask Me] does what Stafford's poetry itself does--it performs a small, creaturely act of reaching out. . . . Honoring a beauty that escapes national boundaries, and throwing his lot in with the outcasts, Stafford celebrates otherwise neglected yet crucial areas of our personal and public experience. If poetry itself seems at times to be 'hallowed by neglect,' a book such as Ask Me goes a long way toward proving that perception wrong." —Star Tribune

"Stafford was a phenomenon. . . . In this selection of one hundred poems published to celebrate his centenary, Stafford emerges as an allegorist, a messenger. . . . These poised poems are revealing without being explicit, as in the final line of the justly famous title poem, 'What the river says, that is what I say.'" —Booklist

"Ask Me suggests that Stafford's life is larger than the sum of its actions--larger enough that it keeps speaking, years after it is over. . . . As Ask Me demonstrates, Stafford's modes are manifold. One moment gentle and receptive, the next critical and morally imperative, his poetry is as textured and unpredictable as the natural world it so often extols. . . . Stafford nearly always speaks with candor and moral authority." —ZYZZYVA

"For those unacquainted with William Stafford this is a great entryway to one of the twentieth century's giants of poetry. Stafford wrote a poem a day, and you should read one of these each day. He's a philosopher, father figure, steely yet jocular activist, a moody lover, a world citizen, a word citizen. Genius and rapture abound in these pages." --Anthony Swofford "Too often William Stafford is forced into the sappy clothing of a gentleman farmer or weekend nature lover; too often his work is spoken about as if one was speaking about the most gentle poems on earth. For me, Stafford was his own rebellion. This is NOT a nature poet but a poet who lived with nature, who loved it even though it could kill, who was calm even though it was wild, a poet unafraid of the dark in the forest probably because it looked a lot like the dark in him." —Matthew Dickman

"These are verses gathered from the mountain of Stafford, poems that resound from one generation to another; they are poems of welcome and invitation, poems that expand our field of vision; they are wisdom poems, hard-earned poems, poems in conversation with loss and memory at a personal and global level. . . . As a deeply committed teacher and poet of witness, [Stafford] was a profound and life-long voice for peace, a voice fully aware of a painful and beautiful world, a voice that never faltered in its recognition of a livable and harmonious way of being." —Brian Turner