The Organic Revolutionary: A Memoir from the Movement for Real Food, Planetary Healing, and Human Liberation (Paperback)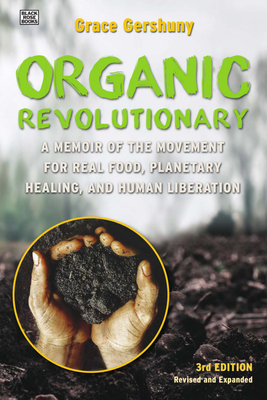 Description
---
An influential founding member of the American organic agriculture movement and a long-time organic farmer, Grace Gershuny gives us one of the most comprehensive and deeply personal accounts of adventures in that movement ever written. A principal author of the USDA's first proposed National Organic rule, Gershuny left the National Organic Program staff just before the final rule was published. The complicated story of that movement for nationwide organic regulations, which consumed Gershuny's life for five years, is interwoven here with her own personal timeline before, during, and after the arduous federal process.
 
This memoir explores how the organic revolution became rooted well before the US federal government cared to notice. Gershuny asks important ongoing questions about the organic movement that still aren't receiving enough attention, such as whether organic standards should be consumer or farmer-driven and if organic agriculture architecture will be able to maintain its principles as it becomes mainstream. Entertaining yet urgent, Organic Revolutionary thoughtfully details the personal, political, and practical struggles that ensued in the heroic effort to push the organic movement beyond farmers' markets and into supermarkets.
 
About the Author
---
Grace Gershuny is co-author of The Soul of Soil and has written extensively on soil, compost, and food system issues. She lives in Vermont.