Luschiim's Plants: Traditional Indigenous Foods, Materials and Medicines (Paperback)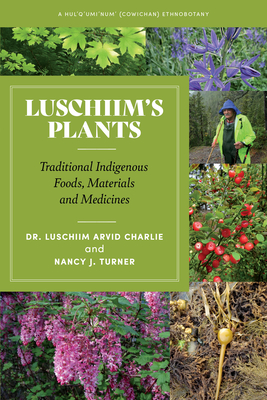 Description
---
An invaluable compendium of Hul′q′umi′num′ traditional knowledge.
Respected Cowichan Tribe Elder and botanical expert, Luschiim Arvid Charlie, began his education in early childhood, learning from his great grandparents and others of their generation. Luschiim's Plants represents his dedication to the survival of the Hul′q′umi′num′ language and traditional knowledge of plants for future generations. From the healing properties of qaanlhp (arbutus) to the many practical applications of q'am (bull kelp), the information presented in this remarkable guide shares knowledge of plants that Luschiim is familiar with through his own Elders' teachings and by way of direct experience over the course of his lifetime, and compiled from field outings and interviews with notable ethnobiologist and botanist Nancy Turner.
In this unprecedented collection of botanical information, over 140 plants are categorized within their broad botanical groupings: algae and seaweeds, lichens, fungi and mushrooms, mosses and liverworts, ferns and fern-allies, coniferous trees, deciduous trees, shrubs and vines, and herbaceous flowering plants. Each entry is illustrated with a colour photo and includes the plant's common, scientific and Hul′q′umi′num′ names; a short description; where to find it; and cultural knowledge related to the plant. Additional notes encompass plant use, safety and conservation; the linguistic writing system used for Hul′q′umi′num′ plant names; as well as miscellaneous notes from interviews with Luschiim.
This volume is an important addition to the bookshelves of botanists, and will fascinate anyone with an interest in plants of the West Coast and their traditional uses by Coast Salish peoples.