The Wilderness (Hardcover)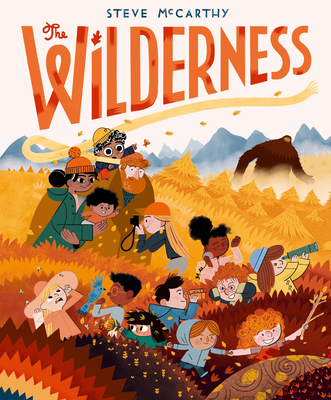 Description
---
In this gorgeously illustrated whimsical tale, a young boy who fears the outdoors becomes lost in the forest . . . and discovers not only his courage but a new friend, too.

The Vasylenko family are all adventurers who love wild places and wild things. All, that is, except young Oktober. He also dreams of adventure, but it's the kind that takes place between the pages of a book, indoors, where it's safe and warm. Unlike the rest of his family, he dreads venturing out where it's cold, wet, and home to a creature he calls the Wilderness. His father assures him the wilderness isn't a monster, but out there, Oktober can only see slimy tails and sharp teeth and so many places for the terrible Wilderness to hide. One day on a hike, Oktober gets separated from his family, and because he doesn't believe he's brave enough to be an adventurer, he's certain his fate is sealed. But maybe getting lost is just what Oktober needs to find courage and a new perspective . . . and an unexpected friend. With wry humor and marvelously rich and clever illustrations that readers will be happy to get lost in, Steve McCarthy's debut as author-illustrator will speak to even the most timid and bookish of adventurers.
About the Author
---
Steve McCarthy is an Irish designer, illustrator, and author. His early career was devoted to traditional animation and background design, most notably for the 2015 Oscar-nominated animated feature film Song of the Sea. He is also the illustrator of A Sailor Went to Sea, Sea, Sea; The One with the Waggly Tail; and Sally Go Round the Stars, all by Sarah Webb. The Wilderness is his author-illustrator debut and was inspired by the freedom of his homeschooled childhood. Steve McCarthy lives in southeast London.
Praise For…
---
When [Oktober] does encounter the Wilderness, adorable in an entertaining vertical gatefold, our hero learns to shift perspective. The tactile seeming digital illustrations are motion-filled, rounded-edged, and cozily autumnal.
—The Horn Book

Cautious Oktober avoids the unpredictable outdoors…until he finds himself face to face with the Wilderness. . . . This story is an effective metaphor for conquering fears. Oktober is a likable, wide-eyed bookworm, stronger and more adventurous than he realizes. Fittingly, McCarthy's sweeping landscapes are full of gorgeous earth tones with rolling fog, mossy waterfalls, and piles of autumnal leaves adeptly brought to life. The endpapers serve as an intriguing visual glossary of fictional plants and animals. . . . A rich, imaginative world inhabited by believable, endearing humans.
—Kirkus Reviews

The friendly, funny story is perfect for young readers struggling with fears and anxiety, and the lively autumnal illustrations brim with glowing tones and delightful details, from snug bunk beds for each of the 12 children to tiny bits of flora and fauna. An empathetic entreaty to face fears and embrace life's adventures.
—Booklist