The Lichen Museum (Art After Nature) (Paperback)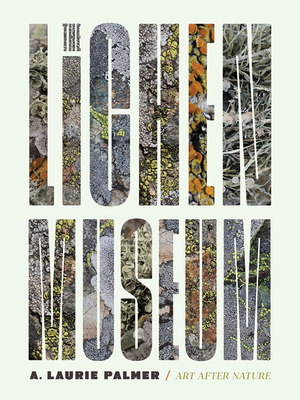 Staff Reviews
---
Lichen(s) are weird. No one quite knows exactly what they are or how they form or how long they live. We do know that they are ubiquitous, living just about everywhere on earth. So ubiquitous that they are easily overlooked, which is a situation Laurie Palmer hopes to remedy in this wonderfully capacious art project/meditation on ways of being. The Lichen Museum is a joy to read and will reorient your vision to the tiny, the common, and the non-manageable. It might even be radical enough to change the world.
— Stephen
Description
---
A radical proposal for how a tiny organism can transform our understanding of human relations

 
Serving as both a guide and companion publication to the conceptual art project of the same name, The Lichen Museum explores how the physiological characteristics of lichens provide a valuable template for reimagining human relations in an age of ecological and social precarity. Channeling between the personal, the scientific, the philosophical, and the poetic, A. Laurie Palmer employs a cross-disciplinary framework that artfully mirrors the collective relations of lichens, imploring us to envision alternative ways of living based on interdependence rather than individualism and competition.
Lichens are composite organisms made up of a fungus and an alga or cyanobacteria thriving in a mutually beneficial relationship. The Lichen Museum looks to these complex organisms, remarkable for their symbiosis, diversity, longevity, and adaptability, as models for relations rooted in collaboration and nonhierarchical structures. In their resistance to fast-paced growth and commodification, lichens also offer possibilities for humans to reconfigure their relationship to time and attention outside of the accelerated pace of capitalist accumulation.
Drawing together a diverse set of voices, including personal encounters with lichenologists and lichens themselves, Palmer both imagines and embodies a radical new approach to human interconnection. Using this tiny organism as an emblem through which to navigate environmental and social concerns, this work narrows the gap between the human and natural worlds, emphasizing the notion of mutual dependence as a necessary means of survival and prosperity.
About the Author
---
A. Laurie Palmer is an artist and professor at the University of California, Santa Cruz.
Praise For…
---
"The Lichen Museum is a deeply engaging, provocative, humorous, and moving account of why we should pay more attention to lichens. As lichens can be found anywhere, the entire surface of the earth becomes the lichen museum. A. Laurie Palmer weaves together personal anecdotes, theoretical interventions, photography, and detailed research to draw attention to how lichens can offer new ways to think through questions of relationality, life and death, and our mutual obligations to each other."—Heather Davis, author of Plastic Matter
"Meditative and inquisitive, The Lichen Museum is an interdisciplinary work about learning from the most unassuming of species."—Foreword
"Reading this work feels like taking a series of walks with a particularly curious and sensitive companion, consistently attentive to otherwise neglected facets of the actual environment. "—e-flux
"As an environmentally engaged artist, Palmer introduces readers to lichens through personal observations, extensive research, and critical evaluation of past and current scientific study of this complex living organism and offers her musings on the potential philosophical and poetic implications of these symbiotic organisms."—CHOICE