No Horizon Is So Far: Two Women and Their Historic Journey across Antarctica (Paperback)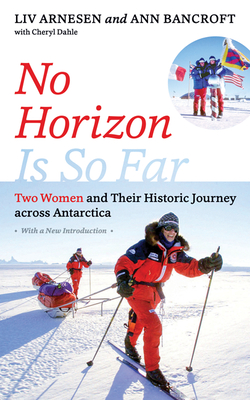 Description
---
The extraordinary story of the first two women to cross Antarctica


The fascinating chronicle of Liv Arnesen and Ann Bancroft's dramatic journey as the first two women to cross Antarctica, No Horizon Is So Far follows the explorers from the planning of their expedition through their brutal trek from the Norwegian sector all the way to McMurdo Station as they walked, skied, and ice-sailed for almost three months in temperatures reaching as low as -35°F, all while towing their 250-pound supply sledges across 1,700 miles of ice full of dangerous crevasses. Through website transmissions and satellite phone calls, Ann and Liv, two former schoolteachers, were able to broadcast their expedition to more than three million students in sixty-five countries to teach geography, science, and the importance of following your dreams. 
About the Author
---
Liv Arnesen is a world-renowned explorer, lecturer, author, and educator. Together with Ann Bancroft, she founded Bancroft Arnesen Explore, a nonprofit dedicated to global water sustainability, with expeditions planned through 2027 to raise awareness through education and storytelling. She lives near Oslo, Norway.
Ann Bancroft is one of the world's preeminent polar explorers and the first woman to reach both the North and South Poles. An internationally recognized educator, speaker, and philanthropist, she founded the Ann Bancroft Foundation in 1991; is a spokesperson for the Learning Disabilities Association, Wilderness Inquiry, and Girl Scouts of the USA; and cofounded Bancroft Arnesen Explore. She lives near St. Paul, Minnesota.
Cheryl Dahle, a writer and social entrepreneur based in Chicago, is distinguished adjunct of professional practice at Carnegie Mellon University's School of Design.
Praise For…
---
"If you think you know the story of the first female crossing of Antarctica, think again. More hard work, more sweat and tears went into this historic expedition than any of us realized. Their accomplishment proves that nothing is beyond our wildest dreams."—Billie Jean King
"Ann and Liv's historic polar expedition is an awesome accomplishment but, as this book shows, their work as teachers has also had profound impact: they inspire young girls and boys to follow their dreams."—Will Steger, world-famous polar explorer and best-selling author of North to the Pole
"Ann Bancroft and Liv Arnesen's crossing of Antarctica will go down in history as a great expedition because it was a first for women and because they set a distance record. But the uplifting story of No Horizon Is So Far shows why Ann and Liv will be remembered for much more: their generosity of spirit transcends their bravery and tenacity. Through this powerful account, these women will inspire readers for generations to come."—David Breashers, author of High Exposure, expedition leader and codirector of the IMAX film Everest
"The new paperback edition calls attention to their ongoing work in raising awareness of water pollution and scarcity, but the core text is a testimonial to the resilience of the explorers in vividly descriptive prose."—Shepherd Express
"What makes this book interesting goes beyond the hard environment . . . it's the spirit with which this particular expedition was run."—National Geographic