Salinas: A History of Race and Resilience in an Agricultural City (Paperback)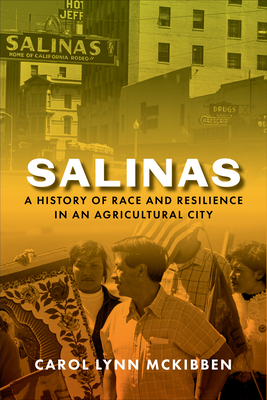 $33.00

Not On Our Shelves Now (Usually Ships in 1-5 Days)
Description
---
An ambitious history of a California city that epitomizes the history of race relations in modern America.
Although much has been written about the urban-rural divide in America, the city of Salinas, California, like so many other places in the state and nation whose economies are based on agriculture, is at once rural and urban. For generations, Salinas has been associated with migrant farmworkers from different racial and ethnic groups. This broad-ranging history of "the Salad Bowl of the World" tells a complex story of community-building in a multiracial, multiethnic city where diversity has been both a cornerstone of civic identity and, from the perspective of primarily white landowners and pragmatic agricultural industrialists, essential for maintaining the local workforce.
Carol Lynn McKibben draws on extensive original research, including oral histories and never-before-seen archives of local business groups, tracing Salinas's ever-changing demographics and the challenges and triumphs of Chinese, Japanese, Filipino, and Mexican immigrants, as well as Depression-era Dust Bowl migrants and white ethnic Europeans. McKibben takes us from Salinas's nineteenth-century beginnings as the economic engine of California's Central Coast up through the disproportionate impact of Covid-19 on communities of color today, especially farmworkers who already live on the margins.
Throughout the century-plus of Salinas history that McKibben explores, she shows how the political and economic stability of Salinas rested on the ability of nonwhite minorities to achieve a measure of middle-class success and inclusion in the cultural life of the city, without overturning a system based in white supremacy. This timely book deepens our understanding of race relations, economic development, and the impact of changing demographics on regional politics in urban California and in the United States as a whole.
About the Author
---
Carol Lynn McKibben is a lecturer at Stanford University. She is director of the Salinas History Project and the author of two previous books on the history of Monterey County: Beyond Cannery Row: Sicilian Women, Immigration, and Community in Monterey, 1915-1999 (2006) and Racial Beachhead: Diversity and Democracy in a Military Town (2012).