Cotton Candy: Poems Dipped Out of the Air (Paperback)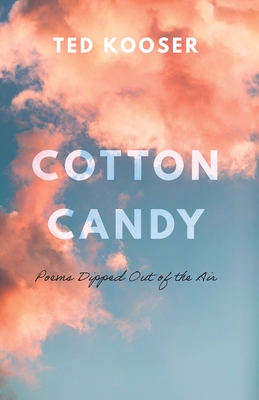 Description
---
2023 Midwest Book Award finalist

"Poems dipped out of the air" describes the manner in which Ted Kooser composed the poems in Cotton Candy, the result of his daily routine of getting up long before dawn, sitting with coffee, pen, and notebook, and writing whatever drifts into his mind. Whether those words and images are serious or just plain silly, Kooser tries not to censor himself. His objective is to catch whatever comes to him, to snatch it out of the air in words, rhythms, and cadences, the way a cotton candy vendor dips an airy puff out of a cloud of spun sugar and hands it to his customer. Poems written in fun and now shared with the reader, Kooser's playful and magical confections charm and delight.
About the Author
---
Ted Kooser, U.S. poet laureate (2004–6) and winner of the 2005 Pulitzer Prize in Poetry, is an emeritus presidential professor of English at the University of Nebraska–Lincoln. He is the author of dozens of books, including Kindest Regards: New and Selected Poems, The Wheeling Year: A Poet's Field Book (Nebraska, 2014), and Delights and Shadows.
 
Praise For…
---
"There is much to be admired in Kooser's improvisational approach to composition."—Publishers Weekly

"That Kooser often sees things we do not would be delight enough, but more amazing is exactly what he sees. Nothing escapes him. Everything is illuminated."—Library Journal

"There is a sense of quiet amazement at the core of all Kooser's work."—Washington Post

"[Kooser] brushes poems over ordinary objects, revealing metaphysical themes the way an investigator dusts for fingerprints. His language is so controlled and convincing that one can't help but feel significant truths behind his lines."—Philadelphia Inquirer

"Kooser's ability to discover the smallest detail and render it remarkable is a rare gift."—Bloomsbury Review

"Kooser is straightforward, possesses an American essence, is humble, gritty, ironic, and has a gift for detail and deceptive simplicity."—Seattle Post-Intelligencer