Dark Skies: A Journey into the Wild Night (Paperback)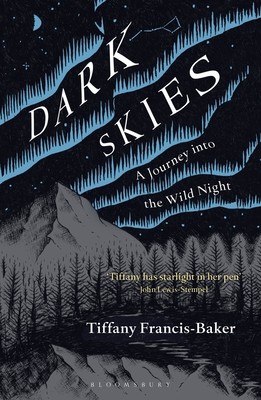 Staff Reviews
---
Tiffany Francis' Dark Skies: A Journey into the Wild Night is a beautiful blend of nature and travel writing taking the reader from Francis' home in rural England to Norway, the Black Forest, the Baltic sea and beyond to uncover the mysteries of the nocturnal world. Francis does a wonderful job exploring how the known and familiar becomes new and mysterious after dark and encourages us all to look at the world from a new perspective.
— Emily
Description
---
Darkness has shaped the lives of humans for millennia, and in Dark Skies, Tiffany Francis travels around Britain and Europe to learn more about nocturnal landscapes and humanity's connection to the night sky.

For a year, Tiffany travels through different nightscapes across the UK and beyond. She experiences 24-hour daylight while swimming in the Gulf of Finland and visits Norway to witness the Northern Lights and speak to people who live in darkness for three months each year. She hikes through the haunted yew forests of Kingley Vale and embarks on a nocturnal sail down the River Dart.

As she travels, Tiffany explores how our relationship with darkness and the night sky has changed over time. In this personal and beautifully written nature memoir, Tiffany Francis investigates how our experiences of the night-time world have permeated our history, folklore, science, geography, art and literature.
About the Author
---
Tiffany Francis is a writer, artist and environmentalist from the South Downs in Hampshire. With a mixed background in the arts, rural heritage and conservation, her work is fuelled by a love for the natural world and a passion for protecting it. She writes and illustrates for national publications and has appeared on BBC Radio 4 and Channel 4. Her books include Food You Can Forage, the Concise Foraging Guide, Bees and Beekeeping and Dark Skies.

www.tiffanyfrancisbaker.com
Tiffany Francis is a writer, artist and environmentalist from the South Downs in Hampshire. With a mixed background in the arts, rural heritage and conservation, her work is fuelled by a love for the natural world and a passion for protecting it. She writes and illustrates for national publications and has appeared on BBC Radio 4 and Channel 4. Her books include Food You Can Forage, the Concise Foraging Guide, Bees and Beekeeping and Dark Skies.

www.tiffanyfrancisbaker.com
Praise For…
---
"Tiffany Francis-Baker has gone into the last dark continent, the night, and brought back wondrous tales with starlight in her pen." —Author of Meadowland: The Private Life of an English Field

"Tiffany Francis-Baker's eloquent and experiential narrative illuminates the shadow filled enclaves of our nocturnal world." —Author of Bird Therapy

"Beautifully written...Francis-Baker combines memoir, history and some glorious landscape writing to provide a thoroughly absorbing evaluation of the role of darkness and night in our literature, culture and, most importantly, our environment." —New European

"Rich in literary references, Dark Skies is also rippled through with memoir...it's a warmly personal narrative." —Financial Times

"A genuinely inspiring and poetic tale of a year spent exploring the natural world under dark and sometimes star-filled skies." —Author of Oak and Ash and Thorn