National Geographic Field Guide to the Water's Edge: Beaches, Shorelines, and Riverbanks (Paperback)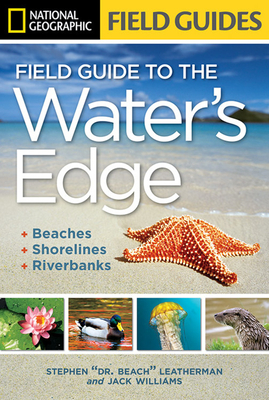 $21.95

Not On Our Shelves Now (Usually Ships in 1-5 Days)
Description
---
The book guides the exploring naturalist to water's edge destinations throughout North America including Canada and Alaska.

Main sections of the book cover three ocean coastlines--Atlantic, Gulf of Mexico, and Pacific; estuaries and wetlands; lakes, including the Great Lakes; and rivers, from the great Mississippi and Columbia to backyard streams. Identification guides and interesting information on plants, animals, shells, and other curiosities to be found along each water's edge accompany photographs and illustrations. Useful and inviting sidebars enhance every page:

· Shore Science--Quick hits and fascinating facts of science along the water's edge
· Stay Safe--Alerts about shoreline dangers and how to avoid or respond to them
· Beachcomber's Guide--Illustrated key to objects found in each beach and shoreline region
· Save the Shore--Notes on how humans can hurt--and help--shoreline ecology
· Best Water's Edge--Throughout, "Dr. Beach" recommends the top beach or shoreline destinations

The book is profusely illustrated with photographs, maps, and explanatory diagrams. An introductory section provides a thorough overview of the basic science of shorelines: How water interacts with land to form beaches; how various kinds of shorelines formed; why large waves are needed to form beaches; how floods and fast-moving water alters river shorelines; how the gravitational pull of the moon and sun cause the tides; why the oceans have tides but the Great Lakes don't; how tides affect rivers far inland; the effects of latitude and climate on the formation of shorelines, including variations in plants and animals. This opening sets up all the science necessary to understand and use the rest of the book.
About the Author
---
STEPHEN LEATHERMAN is a world-renowned coastal scientist known as "Dr. Beach" from his twenty years of naming the widely publicized "Top 10 Beaches." Leatherman has written or edited 16 books, including Sea Level Rise: Causes and Consequences and America's Best Beaches.

JACK WILLIAMS is the founding weather editor for USA Today and the author or co-author of six books including The American Meteorological Society Weather Book: The Ultimate Guide to America's Weather.