The Secret Unicorn Club: Discover the Hidden Book Within a Book! (Hardcover)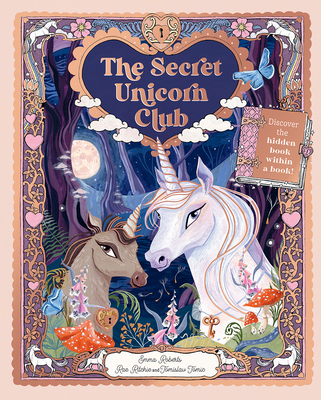 $24.99

Not On Our Shelves Now (Usually Ships in 1-5 Days)
Description
---
As a Secret Unicorn Club member, you'll discover magical unicorn facts and earn badges to unlock a secret bonus book hidden within the back cover
Do you believe in unicorns? How would you like to join a secret club of unicorn experts who search for and look after unicorns in the wild? Now is the chance to earn your place in the Secret Unicorn Club!

You'll learn where to look for unicorns and how to care for them as you collect ten badges on your journey toward becoming an official Secret Unicorn Club member. Find out how unicorns make the weather, meet their interesting relatives in the wild, and get schooled in the art of grooming. Then, discover a hidden handbook that is revealed only to the truest friend of the unicorns. Guard the precious knowledge within these pages for the good of all horsekind.
About the Author
---
Emma Roberts is an award-winning editor and author from London. She has always been a die-hard fan of fantasy and has the tattoos to show for it. With no dragons needing homes in Cheltenham, where she now lives, she has instead adopted a rescue dog who she has named Frodo.