The Terrible Two (Paperback)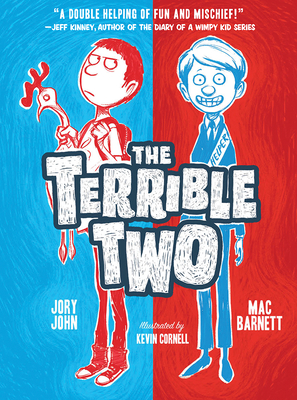 Description
---
New York Times bestseller!
"This book is really funny and exciting." —Guardian
"A double helping of fun and mischief." —Jeff Kinney, author, Diary of a Wimpy Kid

It's prankster against prankster in the first book of the hilarious New York Times bestselling series by Mac Barnett and Jory John! Welcome to Yawnee Valley, the land of cows.

"Some facts about Yawnee Valley: If you placed all of Yawnee Valley's cows in a stack, they would extend to the moon and back. (But this is probably not a good idea since cows are afraid of heights and cannot breathe in space without helmets."

Miles Murphy is known for one thing and one thing only: pranking. He's the best prankster his school has ever seen. So, when he's forced to move to boring, cow-filled Yawnee Valley, he assumes he'll be the best prankster at his new school, too.

There's one problem. The school already has a prankster—and he's good. Really good. Let the prank war begin!

Young readers won't want to put this book down. It's just a lot of fun. Deceptively simple to read but with a lovely flow, the concepts are sometimes deep, including the subject of bullying. But Terrible Two never reverts to the obvious or to potty humor, and the vocabulary is spot-on for the age group.

From bestselling authors Mac Barnett and Jory John comes this deviously funny new series about fitting in, making your mark, and finding a friend where you least expect one.

Also available:
The Terrible Two Get Worse
The Terrible Two Go Wild
The Terrible Two's Last Laugh
About the Author
---
Mac Barnett is the coauthor of the Terrible Two series and the author of many picture books, which have won multiple Caldecott Honors. Claire Keane studied graphic design in Paris before moving to Los Angeles, where she worked at Walt Disney Feature Animation for 10 years and contributed to Frozen, Tangled, Enchanted, and many other films. She now lives in Venice Beach, California, where she writes and illustrates children's books.

Jory John is a New York Times bestselling author of books for both children and adults. He is a two-time E.B. White Read-Aloud Honor recipient. Jory's work includes the picture books Giraffe Problems and Penguin Problems, both illustrated by Lane Smith, the Goodnight Already! series, illustrated by Benji Davies, The Bad Seed and The Good Egg, both illustrated by Pete Oswald, and the award-winning Quit Calling Me a Monster!, illustrated by Bob Shea. He also co-authored numerous humor books, including the internationally bestselling All My Friends Are Dead. Jory spent six years as programs director at 826 Valencia, a nonprofit educational center in San Francisco. He resides in Oregon.

Kevin Cornell is the illustrator of many children's books. He lives in Philadelphia.