The Dope: The Real History of the Mexican Drug Trade (Paperback)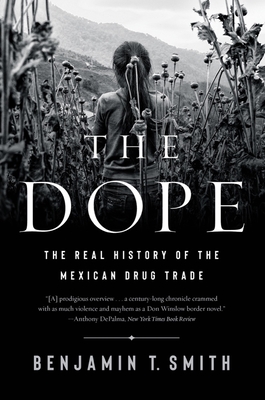 Description
---
A myth-busting, 100-year history of the Mexican drug trade that reveals how an industry founded by farmers and village healers became dominated by cartels and kingpins.
The Mexican drug trade has inspired prejudiced narratives of a war between north and south, white and brown; between noble cops and vicious kingpins, corrupt politicians and powerful cartels. In this first comprehensive history of the trade, historian Benjamin T. Smith tells the real story of how and why this one-peaceful industry turned violent. He uncovers its origins and explains how this illicit business essentially built modern Mexico, affecting everything from agriculture to medicine to economics—and the country's all-important relationship with the United States.
Drawing on unprecedented archival research; leaked DEA, Mexican law enforcement, and cartel documents; and dozens of harrowing interviews, Smith tells a thrilling story brimming with vivid characters—from Ignacia "La Nacha" Jasso, "queen pin" of Ciudad Juárez, to Dr. Leopoldo Salazar Viniegra, the crusading physician who argued that marijuana was harmless and tried to decriminalize morphine, to Harry Anslinger, the Machiavellian founder of the American Federal Bureau of Narcotics, who drummed up racist drug panics to increase his budget. Smith also profiles everyday agricultural workers, whose stories reveal both the economic benefits and the human cost of the trade.
The Dope contains many surprising conclusions about drug use and the failure of drug enforcement, all backed by new research and data. Smith explains the complicated dynamics that drive the current drug war violence, probes the U.S.-backed policies that have inflamed the carnage, and explores corruption on both sides of the border. A dark morality tale about the American hunger for intoxication and the necessities of human survival, The Dope is essential for understanding the violence in the drug war and how decades-old myths shape Mexico in the American imagination today.
About the Author
---
Benjamin T. Smith  is one of the foremost historians of modern Mexico. A professor at the University of Warwick, his previous books have explored politics, violence, Catholicism, and journalism in modern Mexico. He also provides expert witness accounts for Mexican asylum seekers escaping gang violence.
Praise For…
---
[A] prodigious overview…a century-long chronicle crammed with as much violence and mayhem as a Don Winslow border novel.
— Anthony DePalma - New York Times Book Review

[A] magisterial and immensely readable new history of the Mexican drug trade. ... Drawing on a decade of research, Smith traces the roots of Mexico's multiple drug wars from indigenous remedy to the solace of soldiers during the 1910-20 revolution, to the present day. His pacy narrative is true crime at its historical best, replete with all the larger-than-life characters and thrills and spills of a Netflix narco drama. … The Dope is gripping and revealing.

— Jude Webber - Financial Times

The Dope offers an expansive and compulsively readable popular history that successfully upends more than a century of false rhetoric, shattering the most insidious and persistent myths about Mexico's drug trade. By revisiting bygone drug panics and the dawn of narcotics criminalization, Smith reveals how today's staggering cartel violence is rooted in militarized policing, US meddling, and the state's unending thirst for power and wealth. A vital corrective.

— Francisco Cantú, author of The Line Becomes a River

With the skills of a fine historian and the verve of a true storyteller, Benjamin T. Smith unearths the twisted roots of the catastrophic drug war. A fascinating, surreal, and tragic tale.
— Ioan Grillo, author of Blood Gun Money and El Narco

A roiling, rambunctious trek through all that created the modern Mexican drug trade—populated by Cadillacs and barbarians, godfathers and presidents, border dope queens and chatuma kings, and, lining the way, a tawdry cavalcade of Mexican federal officials. Forget 'El Chapo' Guzmán. This book makes clear that the pioneers who forged the trafficking industry were employed in the Mexican government. Really great stuff, really great reading.

— Sam Quinones, author of Dreamland

Benjamin T. Smith is a superb scholar. The Dope is breathtaking. It casts an unforgiving light on the dark corners of a sinister history, reveals the empowerment of Mexico's drug traffickers, and the responsibilities of both U.S. and Mexican governments.

— Sergio Aguayo, professor at the Centro de Estudios Internacionale, El Colegio de México

Benjamin T. Smith dispels the myths with a much-needed dose of reality. Mexico's drug wars are the bloody consequence of the United States' voracious demand for drugs and simultaneous insistence on prohibiting them. The cost has been staggering, as Smith shows in this crisply written, deftly narrated book.
— Daniel Immerwahr, author of How to Hide an Empire

At last, a history that truly makes sense of the sound and fury of the Mexican drug trade.
— Hector Aguilar Camín

A compelling narrative that at last gives us a history-for-all of Mexico's all-out drug war.
— Ed Vulliamy, author of Amexica

Fascinating ... Smith tells of the forgotten men and women who have shaped Mexico's narco trade. He brings these ghosts back to wild and violent life.
— Toby Muse, author of Kilo

Smith's depth of knowledge astonishes, and his pointed critiques of U.S. drug policy hit home. This searing history leaves a mark.
— Publishers Weekly

Smith does a fine job of piecing all these elements together, showing how the American market led to the boom of border towns such as the once-sleepy hamlet of Tijuana and how hard-line anti-drug policies do not bring down consumption rates. A well-researched, sobering view of the damage that Americans' need to get high wreaks on our neighbors.
— Kirkus Reviews