Welcome Home: A Memoir with Selected Photographs and Letters (Paperback)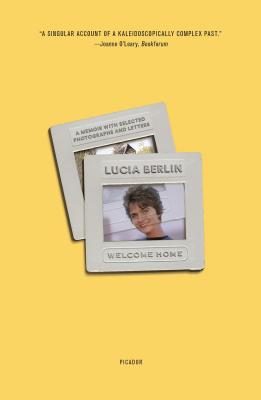 Description
---
"As the case with her fiction, Berlin's pieces here are as faceted as the brightest diamond." --Kristin Iversen, NYLON

NEW YORK TIMES BOOK REVIEW EDITORS' CHOICE. Named a Fall Read by Buzzfeed, Vulture, Newsday and HuffPost

A compilation of sketches, photographs, and letters, Welcome Home is an essential nonfiction companion to the stories by Lucia Berlin

Before Lucia Berlin died, she was working on a book of previously unpublished autobiographical sketches called Welcome Home. The work consisted of more than twenty chapters that started in 1936 in Alaska and ended (prematurely) in 1966 in southern Mexico. In our publication of Welcome Home, her son Jeff Berlin is filling in the gaps with photos and letters from her eventful, romantic, and tragic life.

From Alaska to Argentina, Kentucky to Mexico, New York City to Chile, Berlin's world was wide. And the writing here is, as we've come to expect, dazzling. She describes the places she lived and the people she knew with all the style and wit and heart and humor that readers fell in love with in her stories. Combined with letters from and photos of friends and lovers, Welcome Home is an essential nonfiction companion to A Manual for Cleaning Women and Evening in Paradise.
About the Author
---
Lucia Berlin (1936-2004) worked brilliantly but sporadically throughout the 1960s, 1970s, and 1980s. Her stories are inspired by her early childhood in various Western mining towns; her glamorous teenage years in Santiago, Chile; three failed marriages; a lifelong problem with alcoholism; her years spent in Berkeley, New Mexico, and Mexico City; and the various jobs she later held to support her writing and her four sons. Sober and writing steadily by the 1990s, she took a visiting writer's post at the University of Colorado Boulder in 1994 and was soon promoted to associate professor. In 2001, in failing health, she moved to Southern California to be near her sons. She died in 2004 in Marina del Rey. Her posthumous collection, A Manual for Cleaning Women, was named one of the New York Times Book Review's Ten Best Books of 2015.
Praise For…
---
"Berlin's nonfiction makes apparent her genius for taking personal, idiosyncratic scenes from her memory and crafting them into fiction that speaks to us all. We come to understand through Welcome Home that Berlin's fiction has catalyzed her memories into pointed, surprising short stories. Berlin converts memory into fiction, using fiction to revisit and revise memory." --Maggie Trapp, The Washington Post

"A collection of autobiographical pieces that reflect Berlin's singularly peripatetic life . . . As the case with her fiction, Berlin's pieces here are as faceted as the brightest diamond, but rather than blind you, they just encourage you to examine them even more closely, so you get lost in their depths." --Kristin Iversen, NYLON

"[Welcome Home] gives a sense of the joyousness of [Berlin's] personality, which is as urgently expressed in all her writing as loneliness and desperation are. Her writing loves the world, lingers over details of touch and smell." --Jordan Kisner, The Atlantic

"An illuminating portrait of the artist and an insight into Berlin's documentary fiction . . . [Berlin] evokes the people and places that shaped her . . . She writes candidly about what she enjoyed and endured; when her narrative peters out in mid-sentence, she leaves her reader wanting more." --The Economist

"Welcome Home should complicate and deepen our sense of who Berlin was and what her life was like . . . Berlin's sketches are suggestive, moving, matter-of-fact in some places, and completely devoid of self-pity. Reading them is like having someone tell you the stories of her life over your shoulder as you look at pictures from that time." --John Freeman, Boston Globe

"[Berlin's] impressions of her childhood in particular have the vividness of cherished old magazines . . . Lifting the language throughout is an elegant shrug of fatalism, a conviction that we are born exactly what we are, and what we are going to be." --Patricia Lockwood, London Review of Books

"[Berlin's] lines are so clear-eyed, so remorseless; they leave the skin like an alcohol rub . . . a singular account of a kaleidoscopically complex past." --Joanne O'Leary, Bookforum

"There's a delicious pleasure in tracing the nonfictional origins of Berlin's fictions." --Ellie Robins, Los Angeles Times

"A fun and sometimes bombastic introduction to Berlin's roller-coaster life . . . Berlin documents each of her homes in the vibrant, image-heavy language of her short stories . . . These crisp vignettes are appetizers for the real meal. Raw, passionate, and delightfully unfiltered." --Ryan Smernoff, Los Angeles Review of Books

"Finding all the connections to the stories in the memoir is fun. The letters, the earliest written at age 11 and most in the author's mid-to-late 20s, offer some of that same pleasure but more powerfully underline the fact that the voice that seems so off-the-cuff and natural in the stories is something she consciously created; the version of her persona and her life that got into the stories is clarified and curated." --Marion Winik, Newsday

"Long before the current autofiction craze, Lucia Berlin was spinning her day-to-day into powerfully spare prose that ached with brutal authenticity . . . these new volumes become a jigsaw-puzzle portrait of a long-neglected literary legend, baring the autobiographical material that filtered so forcefully into her fiction. The mystery of her fiction is not, it turns out, in the source of its inspiration. It is in how Berlin transformed her life into art that is as vital as the thing itself." —Lauren Mechling, Vogue

"Berlin is also known as a visionary who anticipated the merging of autobiography and fiction that's so common right now. You can see just how much she merged her life and her fiction in the unfinished memoir Welcome Home . . . he's so mordant here, and so observational, and there are so many gorgeous details that must have been painstakingly sifted out of a lifetime of experiences." --Veronica Esposito, Lit Hub

"Tantalizing glimpses into the life of a recently-discovered writer . . . Berlin describes each home [where she lived] in exquisite, imagistic language . . . [Welcome Home is] an excellent start to understanding a writer and her work." —Kirkus Reviews

"[In Welcome Home,] Berlin's self-reflective and candid voice comes roaring through." —Publishers Weekly