Landfalls: A Novel (Paperback)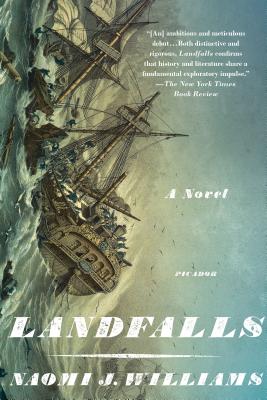 $18.00

Not On Our Shelves Now (Usually Ships in 1-5 Days)
Description
---
Long-listed for the NBCC's John Leonard Prize
A Seattle Times Best Book of the Year

The gripping story of a dramatic eighteenth-century voyage of discovery from Naomi J. Williams

In 1785, the Lapérouse expedition left Brest with two frigates, more than two hundred men, and overblown ideals and expectations, in a brave attempt to circumnavigate the globe for science and the glory of France. This astonishingly inventive novel charts the course of their adventure.

Deeply grounded in historical fact but refracted through a powerful imagination, Naomi J. Williams's Landfalls follows the exploits and heartbreaks not only of the men on the ships but also of the people affected by the voyage—natives and other Europeans the explorers encountered, loved ones left waiting at home, and those who survived and remembered the expedition later. By turns comic, elegiac, and profound, Landfalls is an absorbing tale of the high seas and the world on the cusp of a new era.
About the Author
---
Naomi J. Williams lives in Northern California with her family. Landfalls is her first novel.
Praise For…
---
A Seattle Times Best Book of 2015

"Williams's writing is luminous, lit with tenderness, wisdom and a sly humour that glints between the words, even at their darkest. No quantity of painstakingly assembled facts could rival the intensity of her richly imagined reality then, the astonishing vividness and immediacy with which she conjures up the long-forgotten past." —Clare Clark, The Guardian

"The best kind of historical fiction . . . should involve intelligence, experimentation, boldness, and curiosity. These traits are all in evidence in Naomi J. Williams's ambitious and meticulous debut . . . Both distinctive and rigorous, Landfalls confirms that history and literature share a fundamental exploratory impulse." —Katy Simpson Smith, The New York Times Book Review

"Through shifting perspectives and voices, this suspenseful debut novel tracks the route of the doomed Lapérouse expedition . . . The drama in Landfalls is unrelenting: There's petty infighting, rampant egotism, insufferable personalities, drunkenness, heartbreak and rivalries - sort of a maritime version of 'The Real Housewives of Beverly Hills.' Readers may be surprised to find dashes of comedy throughout, but Ms. Williams is adept at mining the humor in awkward encounters, revealing the divide between how certain characters perceive themselves and how others view them, and exposing the often duplicitous motives behind noble gestures." —Carmela Ciuraru, The New York Times

"Thrilling . . . Landfalls is intelligent and utterly human. Ms. Williams has written a seductive page-turner that, although we know the story ends tragically, draws the reader in and doesn't let go." —Andrea Wulf, The Wall Street Journal

"Extraordinary . . . With keen sensual flair and understated poignancy, especially as she limns the friendships of men at sea, Williams has delivered a bona fide masterpiece." —Michael Upchurch, The Seattle Times

"Audacious . . . Immersive . . . A marvel of inventive storytelling." —Jane Ciabattari, BBC

"A beautiful tale of adventure, anchored in tragedy." —Nicole Jones, Vanity Fair

"Literary art of the first order, intelligent and evocative in the way of the best of historical fiction." —Kirkus Reviews (starred review)

"As a nautical novel, it's fantastic; as a novel of cultural exchange and misunderstanding, it's even better." —Kel Munger, Sacramento News & Review

"Williams' status as an acclaimed short story writer is evident in her craftsmanship of each perfectly encapsulated chapter, each recounted from a different viewpoint or viewpoints . . . [Landfalls] is alternately charming, invigorating, and heartbreaking, and always thoughtful and humane. Even readers who don't seek out nautical adventures will find themselves drawn in, especially if they love high-quality literary fiction." —Sarah Johnson, Booklist

"Williams's research is thorough and meticulous . . . Williams does a masterly job with her descriptions of the officers, sailors, scientists, and people they meet, explaining a colorful, vibrant bit of maritime history in the age of discovery." —Publishers Weekly

"By focusing on the penumbra of this legendary voyage, a disastrous, 18th-century quest for geographic knowledge, Naomi J. Williams brilliantly illuminates the enduring story of L'Expedition de Laperousé. The novel is a deft and stunning evocation of human aspiration at the dawn of the Industrial Age." —Barry Lopez, author of Arctic Dreams, winner of the National Book Award

"Here is an historical novel so thrilling in the reading, so richly colored and true to life that, reaching the end, I found myself going back to begin it again. I don't ask for more from a book." —Lynn Freed, author of The Servants' Quarters

"This is a daring novel deftly written. In Landfalls, Naomi J. Williams conjures entire worlds, both external and internal, with remarkable dexterity, leaping nimbly from setting to setting and heart to heart, assembling a book every bit as moving and wondrous as the journey it recreates. Still, the greatest discovery is left to us: this new author of such rare talent burst upon our world." —Josh Weil, author of The Great Glass Sea

"An unceasingly compelling tale of men, adventure and obsession, Landfalls strikes that rare and perfect balance between being a meticulously researched and utterly trustworthy historical account on the one hand, and a damn good story peopled with highly complex emotionally recognizable characters on the other. It is also formally inventive, structurally satisfying, and deeply moving-quite a trifecta for any novelist, let alone a debut. Naomi J. Williams is the real thing." —Pam Houston, author of Contents May Have Shifted

"Landfalls is a book of aftermaths. European explorers, and the array of communities they encounter landfall by landfall, are all immersed in their own cultural hierarchies set against a mapped, unmapped, remapped and perhaps unmappable world. They are linked by glimpse and remnant, but ultimately by the depths of the unknowable. In elegant, restrained prose deftly balanced with wit and warmth, Williams moves from mystery to mystery, revealing and concealing in waves." —Lucy Corin, author of One Hundred Apocalypses and Other Apocalypses

"Every expedition is a drama, in which the souls caught by the war and peace of human curiosities become master storytellers of their own tales and one another's fate. What a joy to see these characters, long-buried by sea or by land, come alive in Landfalls. Naomi J. Williams is an astute observer of both actions and psychologies, and this brilliant book brings us closer to our fellow explorers before our time." —Yiyun Li, author of Kinder Than Solitude

"To say that this debut novel is thoroughly delightful may sound too dismissive of what is a deeply researched and ingeniously told story, but there it is: it's a joy to read . . . A significant historical record exists of this voyage that never returned, and it's clear that Williams used much of it. This novel must have been a vast undertaking, but the reader sees none of that heavy lifting. Instead Williams simply weaves in the details that allow her to take her readers around the world on a wondrous journey of discovery." —The Historical Novel Society

"Landfalls continually finds new ways to remind its readers of what comes to seem a more and more unsettling fact: a map is always a history . . . This elaborated and lovely language is never less than clear. As on a pleasing map, part of the beauty is that you are always sure where the landmarks are supposed to be" —James May, New Orleans Review

"In fiction, Williams is able to reinvent this lost diversity of perspectives, albeit with far more gritty realism that might be found in 18th-century versions. Her eclectic and literary approach is personal and psychological rather than philosophical and political. Rather than revealing character through observations or externalities, Williams takes us into the fraught interior world of her characters' psyches, with all their anxieties, fears, prejudices and passions. . . The unreliable and often contradictory voices of the narrative give even implausible scenarios the strangely authentic flavour of rumour and hearsay." —Danielle Clode, The Australian

"The craftsmanship is so good, it's hard to believe this is a first novel. That alone makes the book award worthy. On top of the outstanding technical execution, it tells its tale so well that it becomes interesting and emotionally gripping to readers with zero interest in 18th-century maritime history" —Carolyn Haley, New York Journal of Books