Veterinary & Animal Ethics: Proceedings of the First International Conference on Veterinary and Animal Ethics, September 2011 (UFAW Animal Welfare) (Hardcover)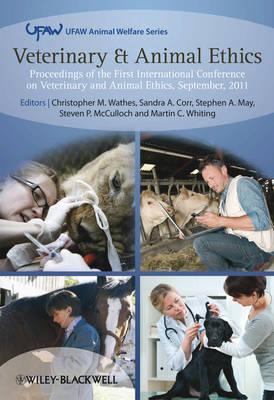 Description
---
The first International Conference on Veterinary and Animal Ethics (ICVAE) held in September 2011 saw leading experts from across the world come together to discuss the most important issues of animal welfare in contemporary veterinary practice and research. This is the extended proceedings of that conference, enabling all those interested in this increasingly significant subject to benefit from the insights of those discussions.
The conference was divided into four sessions: Principles of veterinary and animal ethics; Justifying ends - the morality of animal use; Ethical analyses of animal use; and Cultural, political, legal and economic considerations. Each session contained four or five papers, and these are presented here in full, as well as the transcribed question and answer sessions at the end of each paper, and a short post-presentation reflection from each author. Also included is the debate on the motion 'Is it better to have lived and lost than never to have lived at all?' which records three prepared responses to the question as well as registrants' comments from the floor.
KEY FEATURES
- Contributions from the leading thinkers in veterinary and animal ethics today
- Includes stimulating, challenging, thought-provoking and sometimes controversial discussions
- Addresses key questions on the role of the veterinarian and the morality of animal use, as well as our impact on wildlife
- Provides guidance on the practical application of ethical principles and the problems encountered
Published as part of the UFAW Animal Welfare book series. See www.wiley.com/go/ufaw for more details.
About the Author
---
Christopher Wathes, Professor of Animal Welfare at the Royal Veterinary College. Sandra Corr, Clinical Reader in Small Animal Surgery at the University of Nottingham. Stephen May, Deputy Principal and Vice Principal for Teaching at the Royal Veterinary College. Steven McCulloch, veterinary surgeon and PhD student at the Royal Veterinary College. Martin Whiting, veterinary surgeon and PhD student at the Royal Veterinary College.