The Brain Warrior's Way: Ignite Your Energy and Focus, Attack Illness and Aging, Transform Pain into Purpose (Hardcover)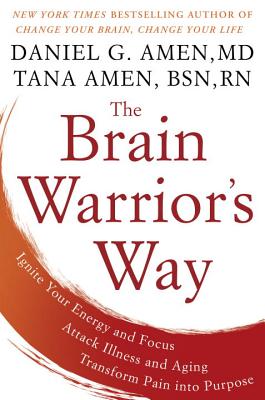 Description
---
New York Times bestselling authors Dr. Daniel Amen and Tana Amen are ready to lead you to victory...The Brain Warrior's Way is your arsenal to win the fight to live a better life. The Amens will guide you through the process, and give you the tools to take control. So if you're serious about your health, either out of desire or necessity, it's time to arm yourself and head into battle.
 
When trying to live a healthy lifestyle, every day can feel like a battle. Forces are destroying our bodies and our minds. The standard American diet we consume is making us sick; we are constantly bombarded by a fear-mongering news media; and we're hypnotized by technical gadgets that keep us from our loved ones. Even our own genes can seem like they're out to get us. But you can win the war. You can live your life to the fullest, be your best, and feel your greatest, and the key to victory rests between your ears.
 
Your brain runs your life. When it works right, your body works right, and your decisions tend to be thoughtful and goal directed. Bad choices, however, can lead to a myriad of problems in your body. Studies have shown that your habits turn on or off certain genes that make illness and early death more or less likely. But you can master your brain and body for the rest of your life with a scientifically-designed program: the Brain Warrior's Way.
 
Master your brain and body for the rest of your life. This is not a program to lose 10 pounds, even though you will do that—and lose much more if needed. You can also prevent Alzheimer's, reverse aging, and improve your:
 
-Overall health
-Focus
-Memory
-Energy
-Work
-Mood Stability
-Flexibility
-Inner Peace
-Relationships
 
The Amens have helped tens of thousands of clients over thirty years, and now they can help you. It is time to live a better life—right now!
About the Author
---
Daniel G. Amen, MD, is a physician, a double board–certified psychiatrist, the founder of Amen Clinics, a 10-time New York Times bestselling author, and the recipient of the John Maxwell Transformational Leadership Award for 2019. Dr. Amen has written, produced, and hosted 14 popular public television shows about the brain that have aired more than 110,000 times across North America. He has spoken for the National Security Agency, and his work has been featured in outlets including Newsweek, Time magazine, HuffPost, the New York Times, the Washington Post, the Los Angeles Times, and Men's Health. He is the author of more than 30 books, including The End of Mental Illness, Change Your Brain, Change Your Life, Healing Anxiety and Depression, and Healing ADD Revised Edition. 

Tana Amen, BSN, RN, and VP of Amen Clinics, is the author of 6 books, including the New York Times bestseller The Omni Diet. She is a highly respected health and fitness expert, and a nationally renowned speaker and media guest. She has appeared on The Doctors, Today, Good Day New York, and more. Additionally, Tana's appearances on public television promoting brain health have helped raise millions of dollars for local stations.
Praise For…
---
Praise for The Brain Warrior's Way

"Daniel and Tana Amen combine deep insights into science, psychology and spirituality to create a potent prescription for brain health. If you want to protect your most important organ, and ultimately become a force for healing in the world, follow The Brain Warrior's Way."—David Ludwig, MD, PhD, Professor, Harvard Medical School and author of the #1 New York Times bestseller Always Hungry?

"Daniel Amen's The Brain Warrior's Way is beautifully written and provides a state-of-the-art plan to win the war on optimal brain health and function. It is easy to read, simple to implement, and with groundbreaking material that will help you to turn back the clock on aging."—Steven Masley, MD, FAHA, FACN, FAAFP, CNS, bestselling author of The 30-Day Heart Tune-Up and Smart Fat
 
"Whether you're dealing with brain fog, physical disease, or just want a better brain, The Brain Warrior's Way will keep you and your brain healthy in our increasingly unhealthy world."—Dr. Mike Dow, New York Times bestselling author of The Brain Fog Fix

"A true warrior is engaged in conflict with courage and skill.  In this excellent book by Daniel and Tana Amen, the Brain Warrior now has the education, training and information to effectively fight and win the war against brain dysfunction and disease. Numerous insults in our environment, both obvious and hidden, induce inflammation and daily damage to our brain. We can control that destiny and the environmental-genetic interaction with the marvelous science and recommendations in this incredible and easy to read book. A wise healer will use that which works. These two wise healers have given us all the tools we need to heal our brain, keep us whole and at peace."—Mark Houston MD, MS, MSc, author of What Your Doctor May Not Tell You About Hypertension
 
"In The Brain Warrior's Way, Daniel and Tana Amen pioneer a powerful life changing program to assist you in mastering your, mind, body and spirit.  This book guides and ignites our innate ability to step back into a path of health and well-being with the transformational tools, wisdom and experiences provided. Life changing!"—Barry Goldstein, award winning music producer and author of The Secret Language of the Heart
 
"It's this simple: If you want a healthy body, you have to have a healthy brain. The Brain Warrior's Way is the ultimate manual on how to tune-up, protect and take care of your body's most important organ. The Brain Warrior's Way is the ultimate self-help book, a how-to manual for taking care of the most important organ in your body—your brain."—Jonny Bowden, PhD, CNS, best-selling author of The Great Cholesterol Myth, Smart Fat and Living Low Carb
 
"Working together as both a medical team and two very warm writers and teachers, Daniel and Tana Amen have written real gems in The Brain Warrior's Way book and cookbook. The authors provide practical, delicious, science-based programs to protect and optimize the most important part of you. Especially powerful to me were The Amens' warnings about neurotoxins and strategies for combating them. In whatever stage of life you find yourself, I hope you will read these books!"—Michael Gurian, author of The Wonder of Aging and The Wonder of Children

Praise for The Brain Warrior's Way Cookbook

"The most important decisions that determine the brain's health destiny happen in the kitchen, not at the pharmacy. Tana and Daniel Amen's The Brain Warrior's Way Cookbook is a guiding light that paves the way for brain health, functionality, and disease resistance with incredible recipes that are totally in line with leading-edge nutritional research. Truly, this is a transformative cookbook that will positively change our health trajectory."—David Perlmutter, MD, FACN, board-certified neurologist and #1 New York Times Bestselling author of Grain Brain

"The Brain Warriors Way Cookbook will feed your mind, body and soul in a delicious and nutritious way. It uses the latest science to help reverse illness and help you function at your peak for the rest of your life!"—Dr. Mark Hyman, director of the Cleveland Clinic Center for Functional Medicine and bestselling author of Eat Fat, Get Thin and The Ten Day Detox

"The Brain Warrior's Way Cookbook will help you incorporate the delicious foods you need to eat every day to keep you and your brain healthy in our increasingly unhealthy world."—Dr. Mike Dow, New York Times bestselling author of The Brain Fog Fix

"A great brain can lead to a great body and heart. The Brain Warrior's Way Cookbook is a valuable tool to boost the health of the brain and body through clean eating stressing abundance, taste and appearance. The principles taught by Tana and Daniel Amen provide a path to healing and rejuvenation, top down."—Joel Kahn MD, Professor of Medicine and author of The Whole Heart Solution