Wilding: The Return of Nature to a British Farm (MP3 CD)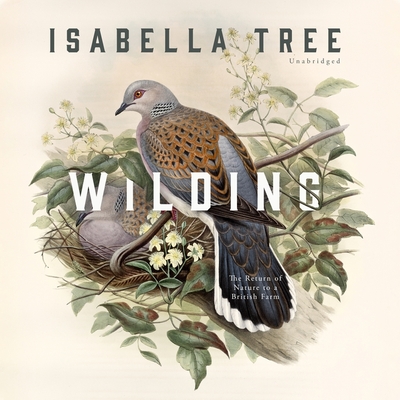 Staff Reviews
---
Isabella Tree's 'Wilding: Returning Nature to Our Farm' is a fascinating and, that rarest of things, a hopeful book about humans and nature. As much a sweeping overview of international efforts being made to reclaim land on behalf of the natural world as it is a chronicle of her family's efforts at rewilding a family farm, 'Wilding' is a surprising page-turner that should serve as inspiration to anyone who thinks that we are too far gone down the road to peril. 
— Stephen
Description
---
An inspiring story about what happens when 3,500 acres of land, farmed for centuries, is left to return to the wild, and about the wilder, richer future a natural landscape can bring
For years Charlie Burrell and his wife, Isabella Tree, farmed Knepp Castle Estate and struggled to turn a profit. By 2000, with the farm facing bankruptcy, they decided to try something radical. They would restore Knepp's 3,500 acres to the wild. Using herds of free-roaming animals to mimic the actions of the megafauna of the past, they hoped to bring nature back to their depleted land. But what would the neighbors say, in the manicured countryside of modern England where a blade of grass out of place is considered an affront?
In the face of considerable opposition the couple persisted with their experiment and soon witnessed an extraordinary change. New life flooded into Knepp, now a breeding hot spot for rare and threatened species like turtle doves, peregrine falcons, and purple emperor butterflies.
The fabled English nightingale sings again.
At a time of looming environmental disaster, Wilding is an inspiring story of a farm, a couple, and a community transformed. Isabella Tree's wonderful book brings together science, natural history, a fair bit of drama, and--ultimately--hope.