Flashpoint: Addresses of Fur Farms, Animal Research Labs, Slaughterhouses and Lab Animal Breeders for Activists (Paperback)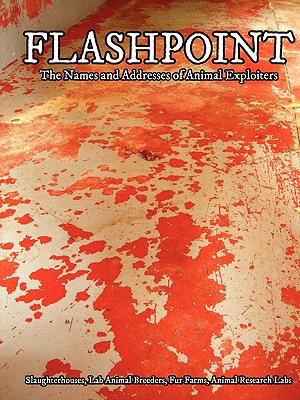 Description
---
Flashpoint is the first directory of animal industry addresses for animal rights activists.
Collected in one book are the addresses of most slaughterhouses, registered research labs, laboratory animal breeders, and fur farms in the United States. A landmark collection, Flashpoint offers a state-by-state directory listing specific addresses of the locations where the majority of non-human animals are killed, arming activists with data animal abuse industries would rather keep secret. Drawing from sources such as the USDA and the Fur Farm Intelligence Project, this is the most comprehensive collection of addresses on animal industries to date. For industries that thrive on "out of sight, out of mind," Flashpoint brings their locations to light. To assist in any investigative or protest campaign.
Included in the book:
Part One: Animal Research Labs
Part Two: Laboratory Animal Breeders
Part Three: Slaughterhouses
Part Four: Fur Farms.