The Half-Acre Homestead: 46 Years of Building and Gardening (Paperback)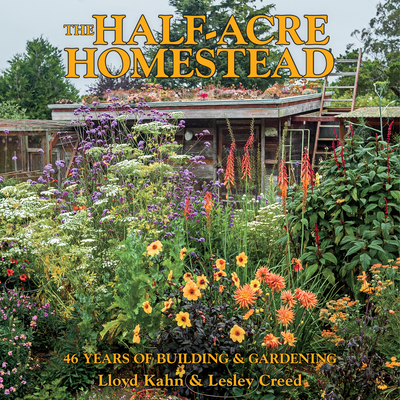 Description
---
Lloyd Kahn and his wife Lesley's story of building their own home, establishing a garden, and practicing crafts on a small piece of land on the Northern California Coast over a 46-year period, with over 500 photos.
Lloyd, the former shelter editor of the Whole Earth Catalog, has published seven books on owner building, showcasing hundreds of builders, and this is his first book on his own work.
Starting with a vacant half-acre piece of land, they built their own home, created a garden with vegetables and fruit, and describe raising chickens, bees, and goats. The book also covers cooking, foraging, fishing, crafts, birds, butterflies, and tools.
Their main theme is that this was all done by hand.
They have never paid rent nor have they ever had a mortgage.
There are over 500 photos illustrating all the above facets of their lives and clear explanations of building skylights, maintaining a septic system, building greenhouses and raised vegetable beds. There is a section on unique kitchen tools, as well as advice on useful tools used in construction.
About the Author
---
Lloyd Kahn started building his own home in the early '60s and went on to publish books showing homeowners how they could build their own homes with their own hands. He got his start in publishing by working as the shelter editor of the Whole Earth Catalog with Stewart Brand in the late '60s. He has since authored six highly-graphic books on homemade building, all of which are interrelated. The books, "The Shelter Library Of Building Books," include Shelter, Shelter II (1978), Home Work (2004), Builders of the Pacific Coast (2008), Tiny Homes (2012), and Tiny Homes on the Move (2014). Lloyd operates from Northern California studio built of recycled lumber, set in the midst of a vegetable garden, and hooked into the world via five Mac computers. You can check out videos (one with over 450,000 views) on Lloyd by doing a search on YouTube: http: //www.youtube.com/results?search_query=lloyd+kahn> Lloyd and his wife and co-author, Lesley Creed, live in West Marin County, California.