Backpacking California: Mountain, Foothill, Coastal & Desert Adventures in the Golden State (Paperback)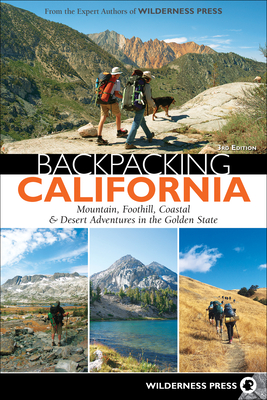 Description
---
Prepare for a Lifetime of Awe-Inspiring Adventures
In California, backpackers can explore wild beaches, enjoy colorful canyonlands, hike amid stunning granite peaks, relax in wildflower meadows, and circle glacier-clad mountains. Discover 74 of California's best and most diverse backpacking trips with the expert backpackers and experienced authors of Wilderness Press. Backpacking California details the premier opportunities across the entire state.
This fully updated edition describes scenic escapes ranging from one night to two weeks, or 3 to 72 miles. Explore the world-famous California coast and the varying landscapes of the Point Reyes National Seashore. See the peaks of the Trinity Alps and the Klamath Mountains, as well as the iconic natural attractions of Yosemite National Park. Choose from other carefully crafted trips in Anza-Borrego Desert State Park, Big Sur, Desolation Wilderness, Mount Shasta, the San Bernardino and San Gabriel mountains, and more. Each itinerary offers geographic diversity, beautiful landscapes, and attainable daily mileage goals.
This in-depth guide provides all the information backpackers need, including trail highlights, mileage, elevation gain, days on the trail, shuttle distances, required permits, and more--not to mention full-color photographs and detailed trail maps. Plus, ratings for scenery, solitude, and difficulty help you to find the exact adventure you seek. Whether you're a novice backpacker or a veteran hiker, an epic trip filled with spectacular scenery and superb vistas awaits.
About the Author
---
The authors of Wilderness Press are experts in their fields. They are local, they are travelers, they are outdoors explorers. They present reliable, first-hand information because they've hiked the hikes, seen the sights, and have personally been where they are leading you. Some of Wilderness Press's finest authors contributed to Backpacking California. They include the following: Michel Digonnet, author of Hiking Death Valley; Kathleen Dodge Doherty, author of Day & Section Hikes: John Muir Trail and Walking San Francisco; David Harris, author of Day & Section Hikes Pacific Crest Trail: Southern California and San Bernardino Mountain Trails; Tim Hauserman, author of Tahoe Rim Trail; Analise Elliot Heid, author of Hiking & Backpacking Big Sur; Jessica Lage, author of Point Reyes; Lowell and Diana Lindsay, authors of Anza-Borrego Desert Region; Andy Selters, author of Mount Shasta; Scott Turner, author of Afoot & Afield: San Diego County; Lizzy Wenk, author of Sierra North and Sierra South; and Mike White, author of Trinity Alps & Vicinity.