Pacific Crest Trail: Northern California: From Tuolumne Meadows to the Oregon Border (Paperback)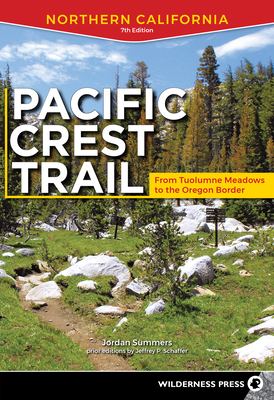 Description
---
The PCT's #1 Guide for More Than 45 Years
First published in 1973, The Pacific Crest Trail, Vol. 1, California quickly established itself as the book trekkers could not do without. Now thoroughly updated and redesigned, Pacific Crest Trail: Northern California starts in Yosemite National Park's beautiful backcountry and guides you to the California-Oregon border. It winds past rivers, peaks, forests, meadows, fascinating geological formations, and other natural wonders.
Let PCT gurus Jordan Summers and Jeffrey P. Schaffer share more than four decades of expertise with you. They'll help you with everything you need to know about this 776.4-mile section of the 2,650-mile trail. You'll pass through Emigrant, Desolation, and Marble Mountain wildernesses; Shasta-Trinity National Forest; and Lassen Volcanic National Park; and you'll see Lake Tahoe, Burney Falls, Mount Shasta, and Castle Crags.
In this book, you'll find

All-in-one guide by accomplished hikers who have logged over 5,000 trail miles
Detailed trail descriptions and alternate routes
Full-color customized maps, drawn to scale with one another
Need-to-know information for day hikes, weekend backpacks, and an ambitious thru-hike
Tips for locating the trail, water sources, and resupply access routes
This guidebook will be your truest companion. So now's the time to get going. The trail awaits.
About the Author
---
Since he was six years old, Jordan Summers has had more fun sleeping on rock, snow, and dirt than any one person should be allowed, spending absurd amounts of time in mountains, forests, canyons, and deserts. Jordan's newest guidebooks, Pacific Crest Trail: Northern California and Pacific Crest Trail: Oregon and Washington, are the result of Summers' 4,000-plus miles trekking this national treasure. Jordan's passion for the outdoors and love for the Sierra Nevada range combined to propel his motivation in writing guidebooks: "to help hikers of all abilities get out there, have a great time out there, leave no trace there, and come home safely from there." Summers is an alumnus of the National Outdoor Leadership School, a Leave No Trace trainer, and a NOLS-WMI Wilderness First Responder. Jordan lives in the Sierra Nevada foothill town of Pioneer, California, and is a volunteer for the Tahoe Rim Trail Association and the Pacific Crest Trail Association.