Underdogs: Pets, People, and Poverty (Animal Voices / Animal Worlds) (Paperback)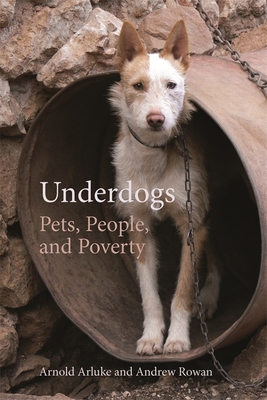 $39.54

Not On Our Shelves Now (Usually Ships in 1-5 Days)
Description
---
Underdogs looks into the rapidly growing initiative to provide veterinary care to underserved communities in North Carolina and Costa Rica and how those living in or near poverty respond to these forms of care. For many years, the primary focus of the humane community in the United States was to control animal overpopulation and alleviate the stray dog problem by euthanizing or sterilizing dogs and cats. These efforts succeeded by the turn of the century, and it appeared as though most pets were being sterilized and given at least basic veterinary care, including vaccinations and treatments for medical problems such as worms or mange. However, in recent years animal activists and veterinarians have acknowledged that these efforts only reached pet owners in advantaged communities, leaving over twenty million pets unsterilized, unvaccinated, and untreated in underserved communities.
The problem of getting basic veterinary services to dogs and cats in low-income communities has suddenly become spotlighted as a major issue facing animal shelters, animal rescue groups, animal control departments, and veterinarians in the United States and abroad. In the past five to ten years, animal protection organizations have launched a new focus trying to deliver basic and even more advanced veterinary care to the many underserved pets in the Unites States. These efforts pose a challenge to these groups as does pet keeping to people living in poverty across most of the world who have pets or care for street dogs.
About the Author
---
Arnold Arluke (Author) ARNOLD ARLUKE is professor emeritus of sociology and anthropology at Northeastern University and senior fellow at the Tufts Center for Animals and Public Policy. He is a cofounding editor of Society and Animals and has published over one hundred articles and twelve books, including Regarding Animals, Brute Force: Animal Police and the Challenge of Cruelty, and The Sacrifice: How Scientific Experiments Transform Animals and People. Andrew Rowan (Author) ANDREW ROWAN founded the Tufts Center for Animals and Public Policy and started the first graduate degree in the world on animals and public policy in 1995. He is the founding editor of Anthrozoos and author and editor of numerous books on human-animal issues including the four volume State of the Animals series. He is president of WellBeing International, a new NGO seeking solutions for people, animals, and the environment.