Cumberland Island: Footsteps in Time (Hardcover)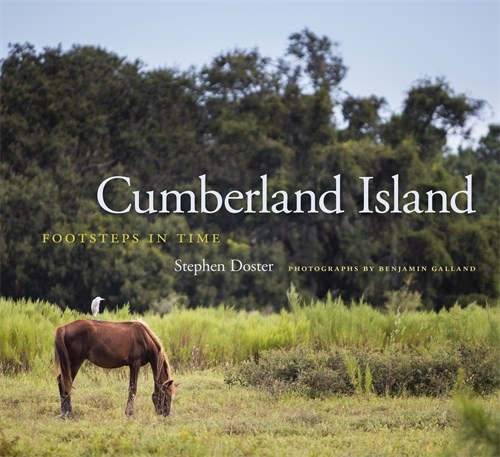 $34.95

Not On Our Shelves Now (Usually Ships in 1-5 Days)
Description
---
Cumberland Island is the southernmost and largest barrier island on the Georgia coast, with a history that predates the arrival of Western civilization in the Americas. Currently, it has few full- time residents, but its beauty brings thousands of visitors each year from around the world. Day hikers and overnight campers bask in Cumberland's tranquility and marvel at its natural treasures, walking beneath canopies of live oak trees draped in Spanish moss.
Comprising three major ecosystem regions, Cumberland is home to large areas of salt marshes and a dense maritime forest, but its most famous ecosystem is its beach, which stretches over seventeen miles. The island is also home to many native and nonnative species, such as white-tailed deer, turkey, feral hogs and horses, wild boar, nine-banded armadillos, and American alligators, as well as many species of birds. Aside from wild horses and the remains of Thomas M. Carnegie's estate, most visitors are unaware of the details of the island's varied history. Cumberland's past tells a rich and complex story, one of conquest by indigenous tribes, French and Spanish explorers, English settlers, cotton planters, and occupation by British and Union naval forces.
Cumberland Island: Footsteps in Time
is the first book about the island that offers readers a complete history of the island combined with stunning photography and historical images. Richly illustrated with more than 250 color and black-and-white photographs, it is a comprehensive history, from native occupation to the present. Author Stephen Doster takes the reader on a chronological journey, outlining the key events and influential inhabitants that have left their mark on this stretch of Georgia's coast. Each chapter focuses on a specific era: indigenous occupation; Spanish occupation; English occupation; the colonial period and War of 1812; the planter era and Civil War; the Gilded Age; north-end settlements and hotels; and the creation of a protected national seashore.
About the Author
---
Stephen Doster (Author) STEPHEN DOSTER was born in Kingston, England and raised on St. Simons Island, Georgia. He is the author and editor of several books, most of which focus on Georgia and the Georgia coast, including Lord Baltimore and Voices from St. Simons: Personal Narratives of an Island's Past, and produced Saint Simons 360, a historical video. Benjamin Galland (Photographer) BENJAMIN GALLAND, born and raised on St. Simons Island, is a photographer and partner with the h2o Creative Group in Brunswick and the photographer for Jingle Davis's Island Time: An Illustrated History of St. Simons Island, Georgia and Island Passages: An Illustrated History of Jekyll Island, Georgia as well as Buddy Sullivan's Sapelo: People and Place on a Georgia Sea Island (all Georgia).