I Have Been Assigned the Single Bird: A Daughter's Memoir (Hardcover)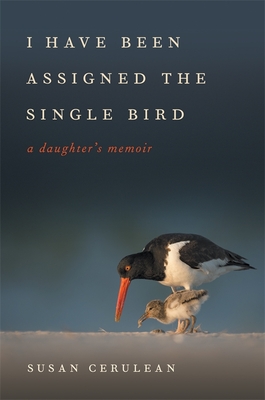 $24.95

Not On Our Shelves Now (Usually Ships in 1-5 Days)
Description
---
Susan Cerulean's memoir trains a naturalist's eye and a daughter's heart on the lingering death of a beloved parent from dementia. At the same time, the book explores an activist's lifelong search to be of service to the embattled natural world. During the years she cared for her father, Cerulean also volunteered as a steward of wild shorebirds along the Florida coast. Her territory was a tiny island just south of the Apalachicola bridge where she located and protected nesting shorebirds, including least terns and American oystercatchers. I Have Been Assigned the Single Bird weaves together intimate facets of adult caregiving and the consolation of nature, detailing Cerulean's experiences of tending to both.
The natural world is the "sustaining body" into which we are born. In similar ways, we face not only a crisis in numbers of people diagnosed with dementia but also the crisis of the human-caused degradation of the planet itself, a type of cultural dementia. With
I Have Been Assigned the Single Bird
, Cerulean reminds us of the loving, necessary toil of tending to one place, one bird, one being at a time.
About the Author
---
Susan Cerulean (Author) SUSAN CERULEAN is a writer, naturalist, and activist based in Tallahassee, Florida. Her nature memoir Tracking Desire: A Journey after Swallow-tailed Kites (Georgia) was named an Editors' Choice title by Audubon magazine. Her many other books include UnspOILed: Writers Speak for Florida's Coast, coedited with Janisse Ray and A. James Wohlpart, and Between Two Rivers: Stories from the Red Hills to the Gulf, coedited with Janisse Ray and Laura Newton. She is a founding member and former director of the Red Hills Writers Project and was named Environmental Educator of the Year by the Governor's Council for a Sustainable Florida.