Baja California's Coastal Landscapes Revealed: Excursions in Geologic Time and Climate Change (Paperback)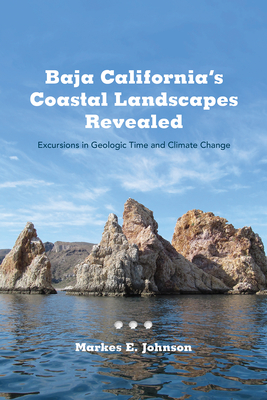 Description
---
Baja California is an improbably long and narrow peninsula. It thrusts out like a spear, parting the Mexican mainland from the Pacific Ocean. In his third installment on the Gulf of California's coastal setting, expert geologist and guide Markes E. Johnson reveals a previously unexplored side to the region's five-million-year story beyond the fossil coral reefs, clam banks, and prolific beds of coralline algae vividly described in his earlier books. Through a dozen new excursions, in Baja California's Coastal Landscapes Revealed, Johnson returns to these yet wild shores to share his gradual recognition of another side to the region.

Johnson reveals a geologic history that is outside the temporal framework of a human lifetime and scored by violent storms. We see how hurricanes have shaped coastal landscapes all along the peninsula's inner coast, a fascinating story only possible by disassembling the rocks that on first appraisal seem incomprehensible.

Looking closely, Johnson shows us how geology not only helps us look backward but also forward toward an uncertain future. The landscape Johnson describes may be apart from the rest of Mexico, but his expert eye reveals how it is influenced by the unfolding drama of Planet Earth's global warming.
 
About the Author
---
Markes E. Johnson is the Charles L. MacMillan Professor of Natural Science, Emeritus, at Williams College, where he taught historical geology, paleontology, and stratigraphy in the Geosciences Department for thirty-five years.

 
Praise For…
---
"Markes Johnson's Baja California's Coastal Landscapes Revealed chaperones readers through virtual rambles up, down, and around coastal Baja California and the Mar de Cortés. Accompanied by his geology students and an eye for reading the Earth archives, Johnson strolls along the deep histories of Baja's land and coastal seascapes, revealing how extremes in weather and water have radically shaped and reshaped the peninsula. In short, Johnson teaches us the languages of landscapes and how to "read the rocks."—Will Cowan, The Western Historical Quarterly

" ... this book is a 'must read' for anyone involved in the earth sciences, irrespective of whether you are professor, student or amateur. It teaches what geology is and how this looks in the field; if even you have not had a chance to visit Baja California (and, worse, if you have not heard about it), the author's intellect and passion will work for you anyway."—Dmitry A. Ruban, Geologos

"Johnson takes a mishmash of rocks and uses them to reveal the workings of climatic and geologic forces over millennia—from indecipherable at the outset, to a pattern-filled natural history lesson that will have you plotting a trip to Baja by the final pages."—Benjamin T. Wilder, Director of the Desert Laboratory on Tumamoc Hill

"An outstanding and long-awaited field guide as the third part of the author's trilogy on Baja California's fascinating geological history and landforms that far too often are overlooked by travelers and residents alike. Here is much more than just a rockhound's guide. It is a small compendium of natural history in the finest sense. A good entry into the large technical literature and research now going on for the Baja Peninsula and the legendary Sea of Cortez."—Bill Burley, biologist