It Must Be a Misunderstanding (Paperback)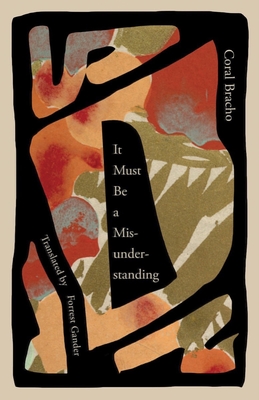 Description
---
A heartbreaking, unforgettable collection by the great Mexican poet Coral Bracho about her mother's Alzheimer's, exquisitely translated by the Pulitzer Prize–winning poet Forrest Gander
It Must Be a Misunderstanding
is the acclaimed Mexican poet Coral Bracho's most personal and emotive collection to date, dedicated to her mother who died of complications from Alzheimer's. Remarkably, Bracho, author and daughter, seems to disappear into her own empathic observations as her mother comes clear to us not as a tragic figure, but as a fiery and independent personality. The chemistry between them is vivid, poignant, and unforgettable. As the translator Forrest Gander explains in his introduction, the book's force "builds as the poems cycle through their sequences"— from early to late Alzheimer's—"with non-judgmental affection and compassionate watchfulness."
About the Author
---
CORAL BRACHO
was born in Mexico City in 1951. She is the author of several books of poems including
Tierra de entrana ardiente
, a collaboration with the painter Irma Palacios. Among her grants and prizes are the Aguascalientes National Poetry Prize in 1981 and a Guggenheim fellowship in 2000. Her poems have appeared in
American Poetry Review
,
Bomb
,
Conjunctions
,
The Nation
, and
Poetry International.
FORREST GANDER
lives in northern California and has published books of poems, translations, and essays. He has won numerous awards, including the Pulitzer Prize for
Be With
, and the Best Translated Book Award, as well as fellowships from the Library of Congress, the Guggenheim Foundation, and United States Artists.
Praise For…
---
Her work has altered the landscape of Mexican poetry in a way that is comparable to John Ashbery's in the U.S.
— Poetry

Our losses have a way of locking us inside ourselves. But in It Must Be a Misunderstanding, Bracho endeavors against the odds to forge an "avid, intimate alliance / with the species," keeping her eyes on the vanishingly few things that bind her to someone whose reality she's no longer privileged to share.

— Andrew Chan - 4Columns

Like Paz, Bracho proceeds through association, moving from one motif to the next, rather than sketching a unified description. Her images, however, are less symbolic than his and more tactile (pulp, juice, moss), and her music, which Gander superbly re-creates, is less ringing and more sensual, slowed down by punctuation.
— Ratik Asokan - Poetry Foundation

[A] surreal world that hasn't been destroyed but altered. Thanks to Gander's translation, this book offers us that gift: to see into this other world with wonder and curiosity.
— Iris Jamahl Dunkle - The Colorado Review

To describe her mother's progressive unmooring from language and time, Bracho uses an elemental vocabulary of images—boats, a queen, birds, plants, music—as she draws the reader into a state of disorientation, guided by dream logic and sometimes fear...[in] Gander's lucid, sonorous translation.
— Heather Green - Poetry Foundation

The influential Mexican poet turned 70 last year, and this generous introduction to her work is beautifully translated by Forrest Gander, himself a leading US poet....Bracho's consistently unusual images are profoundly illuminating, and her special gift is to bend them to make us think. She can be both metaphysical and full of human emotion – often, the two at once. "Only love offers us the dimension of the real / its dark force /curving."
— The Guardian

Anyone who has experienced a loved one's trajectory through Alzheimer's might wonder how a book of poetry focused on that harrowing experience could be uplifting. But Coral Bracho's It Must Be a Misunderstanding, translated by Forrest Gander, is not only tender and compassionate, but leaves the reader suffused in the mystery of being.

— Meryl Natchez - Zyzzyva

Bracho never sentimentalises or reverts to memory loss clichés. Instead, she builds on meaning and emotions through an observant use of irony, and psychological and philosophical insight, sometimes even dark humour, in order to excavate family drama with generosity, love, and understanding. This is an essential collection from one of the most insightful poets writing today in Mexico.
— Poetry London

This is a book with as much depth of soul as scope of craft. It may be appreciated as a contribution to the philosophy of consciousness, an elevation of language's possibilities, or as a worthy tribute to a deceased beloved. It Must Be a Misunderstanding has an aura of compassion, curiosity, and tenderness that readers will find evocative and nutritive at the same time.

— Constance Hansen - Harvard Review