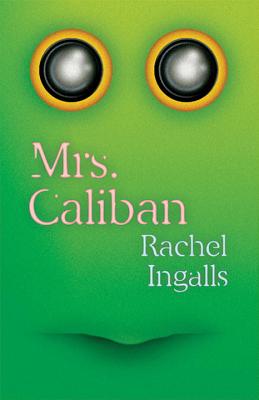 December 2017 Indie Next List
---
"This book, which New Directions has unearthed from the 1980s, is such a surprising, delightful gem. It's like a mix of Lucia Berlin's knack for character, dialogue, and tone with the sci-fi realism that's become so popular lately. A strange, beautiful book by a writer who's getting her rightful recognition (and who may have predicted the current avocado craze?!)."
— Jacob Rogers, Malaprop's Bookstore/Cafe, Asheville, NC
Description
---
Now back in print, Mrs. Caliban is "totally unforgettable" (The New York Times Book Review) and "something of a miracle" (The New Yorker)
In the quiet suburbs, while Dorothy is doing chores and waiting for her husband to come home from work, not in the least anticipating romance, she hears a strange radio announcement about a monster who has just escaped from the Institute for Oceanographic Research… Reviewers have compared Rachel Ingalls's
Mrs. Caliban
to
King Kong
, Edgar Allan Poe's stories, the films of David Lynch,
Beauty and the Beast
,
The Wizard of Oz
,
E.T.
, Richard Yates's domestic realism, B-horror movies, and the fairy tales of Angela Carter—how such a short novel could contain all of these disparate elements is a testament to its startling and singular charm.
About the Author
---
Rachel Ingalls (1940-2019) was born in Boston and lived in the UK from 1965 until her death. She wrote the novels Mrs. Caliban and Binstead's Safari as well as numerous novellas and short stories.

RIVKA GALCHEN's 2008 first novel, Atmospheric Disturbances, and her 2014 story collection, American Innovations, were both New York Times Best Books of the Year. She has received many awards, as well as an MD from the Mount Sinai School of Medicine. Galchen lives in New York City.
Praise For…
---
A masterpiece and totally off the wall.
— Electric Literature

It's not just Disney that can ruminate on romance between a beauty and a
beast. In this reissue of Rachel Ingalls' 1982 novel, housewife Dorothy
hears on the radio that a potentially dangerous monster has just
escaped a research facility. But when the creature walks through her
door, he awakens something new in her. This is our pick for feminist
social satire that's deliciously weird.
— Estelle Tang - Elle

Indeed, as a feminist piece with a deep romantic core, that might best explain Mrs. Caliban's ability to emerge as an unlikely literary classic. There's the sheer entertainment factor — steamy Aquaman sex, anyone?—but then just underneath is a real depth, a quiet brilliance in its study of behavior and circumstance. It cuts through the noise, enlightening while also resonating, soothing in its dreamy surrealism. And isn't that the perfect recipe for an enduring classic?
— David Canfield - EW

Thirty-five years old, it is fresher than most things written yesterday. I wish I could say that I have always known about it. Instead I confess to the zeal of a new convert. Every one of its 125 pages is perfect, original, and arresting. Clear a Saturday, please, and read it in a single sitting.
— Christine Smallwood - Harper's Magazine

Every volume Rachel Ingalls has written displays the craft of a quite remarkable talent. Tales of love, terror, betrayal and grief, which others would spin out for hundreds of pages, are given the occluded force of poetry.
— Independent

The love story is a delight, the social commentary sharp, the writing funny and fun—and yet the sorrow, even bitterness, at the core of this book about our perfidious species is inescapable and profound.
— Kirkus (starred review)

[A] slim surrealist masterpiece.
— LA Times

By marrying domestic realism with the literature of the bizarre, Ingalls brings tenderness to the monstrous and renders the recognizable utterly weird. Compact yet capacious, the novel wonders at all the ways we can desire and destroy one another. It's unabashedly campy and deadly serious; it dares the reader to admit that these aims are not at all at odds.
— Literary Hub

A love affair with a 6-foot-7-inch amphibian might not be every woman's fantasy, but for Dorothy—the lonely housewife at the center of this soon-to-be-reissued 1982 novel—it's working out just fine. A short, funny, bizarre novel that's worth your time.
— Los Angeles Magazine

Perhaps Ingalls's finest accomplishment in the novel is the unflappable gentleness of her tone, which records supernatural surprise and flaming horror simply, almost tranquilly. The result is paradoxically quotidian and dreamlike, like a fable or folktale.
— Rob Latham - Los Angeles Review of Books

In her best work, Ingalls is as monochromatic as Edgar Allan Poe, going straight to her target with the same ease and surety as an arrow skims to its bull's-eye... And just as Poe's craft was exactly suited to the conventions of the short story form, so Ingalls' vision is exactly suited to the length and scope of the novella... Like Poe, Rachel Ingalls is more than a master storyteller: She is also a superb artist.
— Los Angeles Times

[A] peculiar but wonderful and long-overlooked novella...
— Jean Zimmerman - NPR

Thirty-five years old and it still outpaces, out-weirds, and out-romances anything written today.
— Marlon James - The Amazon Book Review

Ms. Ingalls is an experienced writer of novels and stories, and her perfor-mances are immensely skillful, reminiscent of the best film thrillers.
— Ursula K. Le Guin - The New York Times

Rachel Ingalls has created a tight, intriguing portrait of a woman's escape from unacceptable reality and presented an account of derangement so matter-of- fact, so ordinary and at the same time so bizarre, that through her words we experience new insight.
— The New York Times Book Review

Ingalls writes fables whose unadorned sentences belie their irreducible strangeness.
— Lidija Haas - The New Yorker

As deranged as the whole thing is, Ingalls's prose, strikingly austere, taps into a profound sadness, too: Is Mrs. Caliban a work of fantasy or are we inhabiting the psyche of a woman unhinged? ...Begs to be read over and over again.

— The Paris Review

I'm obsessed with Mrs. Caliban, Rachel Ingalls perfect, short, bizarre, heartfelt, insane 1982 novel about a woman and a lizard.

— Bridget Read - Vogue

Mrs. Caliban is one of my favorite novels in the world.

— Daniel Handler

Imagine if Muriel Spark wrote science fiction and you'll get close to what this book feels like: a triumph of tone, a tale of loneliness upended.
— John Freeman

I loved Mrs. Caliban. So deft and austere in its prose, so drolly casual in its fantasy, but opening up into a deep female sadness that makes us stare. An impeccable parable, beautifully written from first paragraph to last.

— John Updike

Mrs. Caliban has the melancholy, bittersweet air of a romance that has come to no significant resolution

— Joyce Carol Oates

A perfect novel.
— Rivka Galchen

Some writers make me laugh out loud; Rachel Ingalls makes me cackle. For her 1982 masterpiece, the short novel Mrs. Caliban, Ingalls takes a B-movie premise and pounds it into a thrilling new shape.

— Ed Park - Village Voice

Mrs Caliban, springs to life like a tale of ancient times magically conjoined with the tedium of twentieth-century suburban housewifery.

— Joyce Carol Oates - TLS