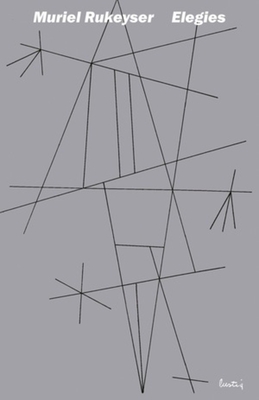 Description
---
An elegant relaunch of Muriel Rukeyser's Elegies, previously available only in a limited edition, celebrates the centennial of her birth
"Not all things are blest, but the seeds of all things are blest." — Muriel Rukeyser, "Elegy in Joy"
First published by New Directions in 1949, Muriel Rukeyser's Elegies were written over a seven years period the end of the Spanish Civil War, World War II, Hiroshima and Nagasaki, and the beginnings of the Cold War. Both and homage to Rilke's Duino Elegies and a spiritual reckoning that is particularly resonant today, these poems present no angelic orders, only the difficulties of living in the modern world, the depths of shipwreck, and "Love that gives us ourselves, in the world known to all."
About the Author
---
Muriel Rukeyser (1913-1980), described by The New York Times as "a brilliant mind fiercely at work," was the author of several collections of poetry, plays, fiction, three books of biography, children's stories, a libretto for a musical about Houdini, a book-length manifesto on poetry, and the translator of a wide range of poets, including Octavio Paz and Gunnar Ekelöf.

Jan Heller Levi's third collection of poems, Orphan, will be published in January 2014 by Alice James Books. She is the editor of A Muriel Rukeyser Reader and is currently writing a biography of Rukeyser, forthcoming from Alfred A. Knopf, with Christoph Keller.   She teaches at Hunter College in New York City.

Christoph Keller, a Swiss novelist and playwright now living in New York, has published more than ten books in German, among them his bestselling memoir The Best Dancer, about his life with a disability. He is co-author, with Jan Heller Levi, of the forthcoming biography of Muriel Rukeyser. Keller is also currently working on a collection of short stories in English.
Praise For…
---
Rukeyser appears more and more as an exemplary American modernist, the lyric poet of epic awareness.
— Washington Post

The breadth, innovation, variety, and daring of Muriel Rukeyser's work have always defied efforts to confine her. Rukeyser's poetry is unequalled in the twentieth-century United States in its range of reference, its generosity of vision, and its energy.
— Adrienne Rich