An Elemental Thing (Paperback)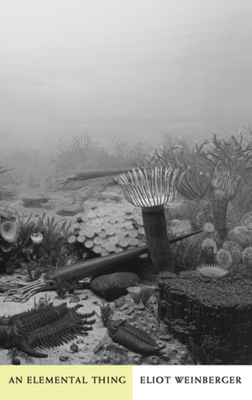 Staff Reviews
---
Eliot Weinberger, a college drop-out turned tanslator (of Paz, Borges, Bei Dao, and others) writes essays unlike anything you've read. These pieces -- erudite, wide-ranging, poetic -- are of universal scope, touching on topics as diverse (and cohesive) as the varieties of Chinese wind, a history of the rhinocerous in Europe, the Nazca lines in the Peruvian desert, and a reverie on the stars that is breathtakingly beautiful. Weinberger's vast learning is matched by an equally encompassing sense of wonder, and his ability to draw the "exotic" closer, while still permitting it an air of mystery, is a thing to marvel at. — From Stephen's favorites
Description
---
Internationally acclaimed as one of the most innovative writers today, Eliot Weinberger has taken the essay into unexplored territories on the borders of poetry and narrative where the only rule, according to the author, is that all the information must be verifiable.
With An Elemental Thing, Weinberger turns from his celebrated political chronicles to the timelessness of the subjects of his literary essays. With the wisdom of a literary archaeologist-astronomer-anthropologist-zookeeper, he leads us through histories, fables, and meditations about the ten thousand things in the universe: the wind and the rhinoceros, Catholic saints and people named Chang, the Mandaeans on the Iran-Iraq border and the Kaluli in the mountains of New Guinea. Among the thirty-five essays included are a poetic biography of the prophet Muhammad, which was praised by the London Times for its "great beauty and grace," and "The Stars," a reverie on what's up there that has already been translated into Arabic, Chinese, Hindi, and Maori.
About the Author
---
Eliot Weinberger is an essayist, editor, and translator. He lives in New York City.