The Great Enigma: New Collected Poems (Paperback)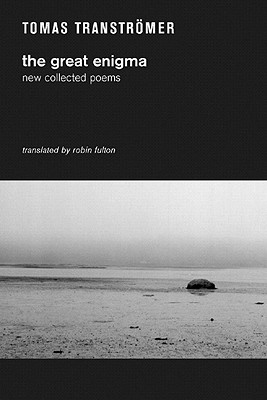 Description
---
The collected poems of one of the world's greatest living writers, Tomas Transtromer, available in this comprehensive edition.
In day's first hours consciousness can grasp the world

as the hand grips a sun-warmed stone.
Translated into fifty languages, the poetry of Tomas Transtromer has had a profound influence around the world, an influence that has steadily grown and has now attained a prominence comparable to that of Pablo Neruda's during his lifetime. But if Neruda is blazing fire, Transtromer is expanding ice.
The Great Enigma: New Collected Poems
gathers all the poems Tomas Transtromer has published, from his distinctive first collection in 1954,
17 Poems
, through his epic poem
Baltics
("my most consistent attempt to write music"), and
The Sad Gondola
, published six years after he suffered a debilitating stroke in 1990 ("I am carried in my shadow / like a violin / in its black case."), to his most recent slim book,
The Great Enigma
, published in Sweden in 2004. Also included is his prose-memoir
Memories Look at Me
, containing keys into his intensely spiritual, metaphysical poetry (like the brief passage of insect collecting on Runmaro Island when he was a teenager). Firmly rooted in the natural world, his work falls between dream and dream; it probes "the great unsolved love" with the opening up, through subtle modulations, of "concrete words."
About the Author
---
Nobel Prize Laureate and beloved Swedish poet Tomas Tranströmer (1931–2015) was born in Stockholm and worked as a psychologist. He wrote ten collections of poems that the Nobel Prize Committee praised for their "condensed, translucent images that give us fresh access to reality." The best-known Scandinavian poet of the postwar period, and the most widely translated, his other books available in English include Selected Poems 1954–1986; The Half-Finished Heaven; For the Living and the Dead; Night Vision; and Windows and Stars. For many years after being seriously debilitated by a stroke, Tranströmer continued write. He was also an avid pianist and released a recording of classical piano pieces performed with his left hand. Tranströmer received numerous public recognitions for his poetry including the Neustadt International Prize for Literature, the Bonnier Award for Poetry, Germany's Petrarch Prize, the Bellman Prize, the Swedish Academy's Nordic Prize, the August Prize, and a Lifetime Recognition Award in 2007 from The Griffin Trust. In 2011 he was awarded the Nobel Prize in Literature.

Robin Fulton, a Scottish poet and longtime resident of Norway, has been translating Tranströmer for over thirty-five years.
Praise For…
---
The books of his poetry on my shelves never remain unopened for long. I turn to him when I wish to come as close as possible to what cannot be said. 
— Teju Cole - The New Yorker

Tomas Tranströmer's poetry permits us to be happily certain of our own uncertainties… Like the animals in Rilke's first sonnet to Orpheus, they are alive to the god's music. 
— Seamus Heaney
Coverage from NPR